| | | |
| --- | --- | --- |
| Toy Story Tops Titanic's Box Office Record | | |
Written by Ivan Radford
Tuesday, 07 September 2010 11:53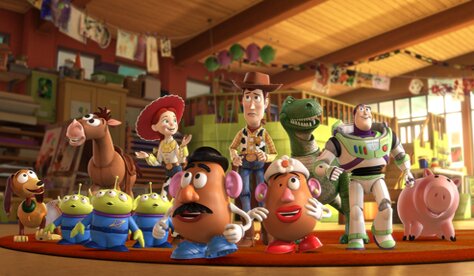 Toy Story has topped Titanic to become the second highest grossing movie in UK Box Office history.

In a week where the Eli Roth-produced horror The Last Exorcism hit number one with £1.1m, Pixar's animated masterpiece stayed firm at number three in the charts, taking home £934k.

That figure was higher than new release The Switch (Jennifer Aniston's spermy rom-com) and Edgar Wright's Scott Pilgrim vs the World - a film which joins Toy Story 3 as one of the standouts of 2010. Unlike Woody and pals, though, that dropped 56% to take only £702k in its second week.

Now in its seventh week of release, Toy Story 3 continues to boast strong family appeal. It's now amassed a current total of £69,878,376. That just beats Titanic, which grossed £69.2m the UK.

Way ahead at the top of the all-time UK Box Office chart, of course, is Avatar. James Cameron's 3D sci-fi epic has taken a total of £93.4m.

With Avatar on re-release in the UK and Toy Story still in the top end of the weekly takings, expect both of those figures to keep climbing. Although don't expect too much from Avatar - it only got £274k this week. Which was less than Diary of a Wimpy Kid. And Marmaduke.

For up-to-date box office analysis, follow i-Flicks on Twitter. 
Tags:
avatar
charts
gross
james cameron
pixar
record
scott pilgrim
titanic
toy story 3