| | | |
| --- | --- | --- |
| Hobo with a Shotgun Trailer Online | | |
Written by Ivan Radford
Monday, 06 September 2010 08:02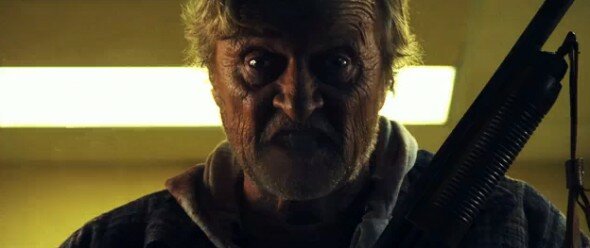 When Robert Rodriguez and Quentin Tarantino revealed Grindhouse to the world, they probably knew what would happen: a ton of other people would come along and start making B-Movies like it was the 80s all over again.

And so, hot on the heels of Machete, Rutger Hauer is a Hobo with a Shotgun. Based on a trailer originally made for a SXSW competition (judged by Tarantino and Rodriguez), Hobo with a Shotgun is getting its own bloody cinematic feature release.

Hauer plays the gun-wielding bum, who aims to wreak vengeance upon the world for motives that aren't quite clear yet. Despite the fact that he monologues for most of the trailer to a roomful of babies. The one thing that is obvious? He's very, very angry. Oh, and he has a shotgun, of course.

Directed by Jason Eisener (who's Canadian), Hobo with a Shotgun will shoot its way into cinemas sometime next year. The trailer appeared online thanks to AICN, but you can read on for the full video.
Tags: