| | | |
| --- | --- | --- |
| Machete - New Release Date and Posters | | |
Written by Ivan Radford
Monday, 23 August 2010 12:03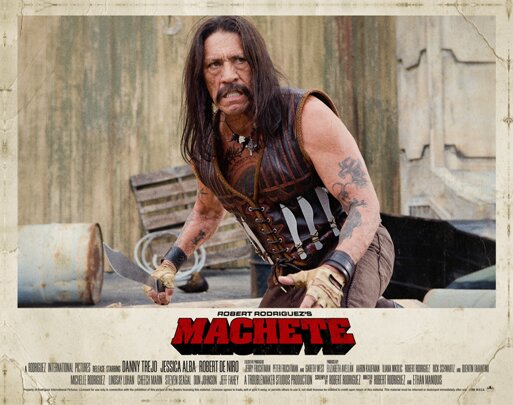 Anyone less than satisfied with The Expendables can be happy with the latest news from of Robert Rodriguez's Machete. First shown to the world in a spoof Grindhouse trailer, Danny Trejo's bad-ass ex-Federale who loves his knives a little too much is looking every bit as angry in these sexy new posters. In case you're wondering, he carries 44 blades in that custom-made leather vest of his.

Playing on exploitation flicks with an unrivalled knowledge and passion, Rodriguez has proven his status as king of the B-Movie with the cast he's got lined up: Steven Seagal, Cheech Marin, Robert De Niro, Jessica Alba, Michelle Rodriguez. That rivals Stallone's efforts any day. If not, there's always the sequence where Machete rappels down a wall using a dead guy's intestines.

The suitably sleazy international trailer is exciting enough, but there's nothing quite like a big picture of a hairy Mexican - and that's exactly what we've got with the film's grimy new quad. You can read on for the second poster, which is significantly less hairy. 

Machete is now out in the UK via Sony Pictures on Friday 26th November. Just in time for the holiday rush. This could be an even bigger family hit than Spy Kids. Check out the trailer over here.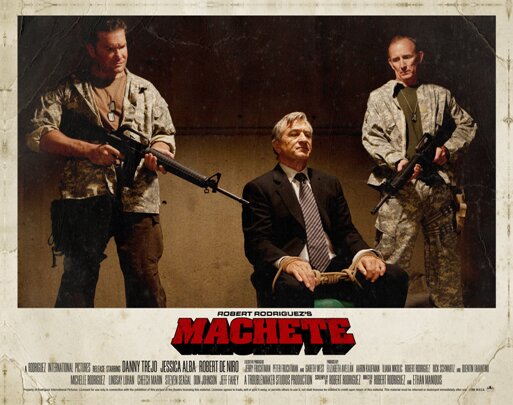 Tags:
cheech marin
danny trejo
grindhouse
jessica alba
machete
michelle rodriguez
quad
robert de niro
robert rodriguez
sony
steven seagal