| | | |
| --- | --- | --- |
| Skyline Trailer Lands Online | | |
Written by Ivan Radford
Wednesday, 11 August 2010 09:51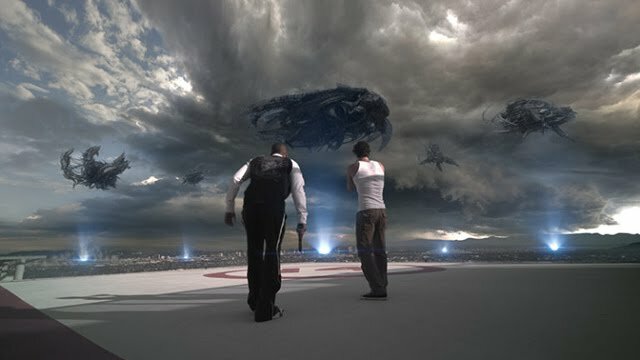 Remember Aliens vs Predator: Requiem? Remember how much you hated Greg and Colin Strause for that? Well, they're back. With more aliens. But not the beloved Ridley Scott kind - this time they're opting for the classic hover-and-abduct routine with Skyline.

Popping up at Comic-Con with a trailer, the Strause brothers bring us a tale of extra-terrestrials appearing in the sky over LA. When some friends - let's call them Eric Balfour, Brittany Daniel and Donald Faison - wake up after a wild night of partying, they soon spot what's going on: everyone's getting abducted.

With big blue beams appearing all over California, the dazed youngsters run for their lives, while everyone else can't help but walk towards the light...

The teaser doesn't show much at all, but maybe that's a good thing. It's a largely independent production, with the Strause brothers using their own visual effects company, Hydraulx, to create the massive mother ships. Then Brett Ratner stepped in to help with the distribution.

Brett Ratner. Strause. Aliens. It doesn't bode that well, but their is an eeriness to it all that just might work. Ignoring the stupid references to Stephen Hawking. Skyline lands on Friday 12th November. The trailer's online over at Apple, but you can read on for the full video.
Tags: