| | | |
| --- | --- | --- |
| Stallone Shoots for Expendables Sequel | | |
Written by Ivan Radford
Wednesday, 11 August 2010 09:35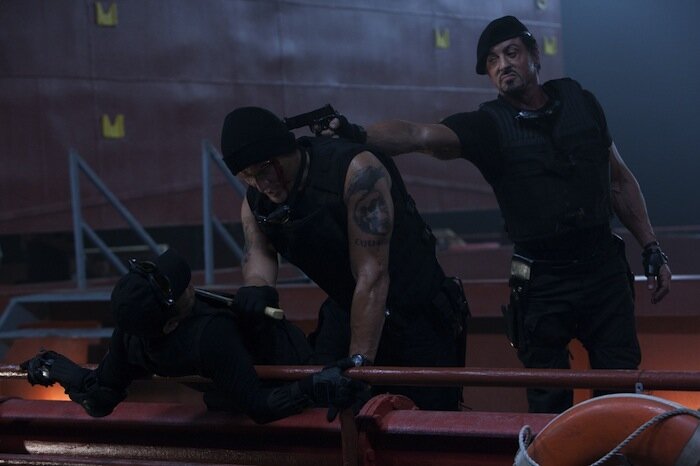 As the buzz around The Expendables gets louder, Sylvester Stallone is crossing his fingers for a sequel. Talking to the LA Times ahead of its American release, he expressed his desire to do a follow-up, if finances allow:

"If this does perform, I think it will open a little more liquidity in funding the sequel. I have an idea ready to go. People think doing a sequel is easy, but it's not because you need the element of surprise. I'm going to try to do something that's quite radical."

After blowing up a dictator's island and blowing a man in half with a shotgun, it's hard to know what Stallone qualifies as "quite radical". But it's no surprise he wants a sequel, nor is it surprising he's unwilling to talk firm details: it was a challenge to get The Expendables off the ground in the first place, even with its low concept and big-name cast. Avi Lerner was a last-minute entry into the project, stumping up the cash for most of the budget thanks to pre-sales to foreign markets.

Lionsgate are crossing their fingers after the hype around Kick-Ass didn't reap box office rewards, but Stallone is hopeful for another shot at a big dumb blockbuster. If he needs reassurance, he just needs to step inside a cinema during the opening credits: every time an actor's name comes up on the screen, massive cheers erupt from a fired-up audience of testosterone-fuelled men, all too ready to spend their money on Stallone's senior years. 
Tags:
arnold schwarzenegger
avi lerner
dolph lundgren
expendables
jason statham
jet li
kick-ass
lionsgate
sequel
sly