| | | |
| --- | --- | --- |
| Andrew Garfield is Spider-Man | | |
Written by Ivan Radford
Friday, 02 July 2010 00:53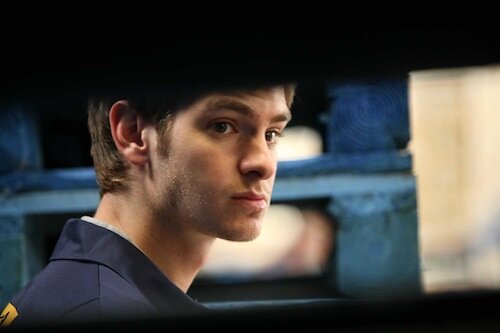 I really thought it'd be Logan Lerman. If you're googling Andrew Garfield right now, you'll be joining millions of other Spider-Man fans doing the same - yes, Andrew Garfield is the new Spider-Man.

Sony's eventual choice for their rebooted Peter Parker is certainly out of left field, but Garfield's been around longer than you think. In fact, you've probably already seen him several times in something, be it TV's Red Riding trilogy, Lions for Lambs or The Imaginarium of Dr Parnassus. He was probably quite good in it too. He's even in The Social Network, due out in October.

It was for that film he was in Cancun with Sony, where a press conference was called to announce the casting decision. And so director Marc Webb stood on stage next to producer Avi Arad and Laura Ziskin and introduced Andrew Garfield to the audience.

Detractors might argue that he's too old, given his high year count of 26. But Tobey Maguire was that ripe age when he first put on Spidey's suit and that wasn't such a bad fit. Age-wise, anyway. Going back to the hero's high school roots, Garfield's young face shouldn't look too out of place.

For those less keen on the casting choice, Webb made clear his love for the new Spidey: "Though his name may be new to many, those who know this young actor's work understand his extraordinary talents. He has a rare combination of intelligence, wit and humanity. Mark my words, you will love Andrew Garfield as Peter Parker."

Filming in 3-D begins in December, with Friday 3rd July firmly in the studio's mind. 2012, that is. They've got James Vanderbilt's script. They've got Peter Parker. Things should pretty much stay on schedule from here on in.
Tags:
500 days of summer
andrew garfield
imaginarium
james vanderbilt
logan lerman
marc webb
peter parker
reboot
red riding
sam raimi
sony