| | | |
| --- | --- | --- |
| Golden Globes - The Winners | | |
Written by Ivan Radford
Monday, 18 January 2010 10:32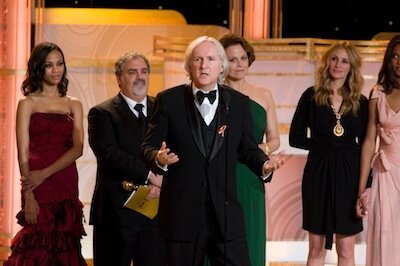 Avatar. Avatar Avatar Avatar. Jeff Bridges. That pretty much sums up a surprising night at the Golden Globes yesterday. The Hollywood Foreign Press Association shocked everyone when they awarded Avatar Best Picture and Best Director. Even Cameron agreed that his ex-wife, Kathryn Bigelow, should've got the award for The Hurt Locker.

Others were more expected - Up got Best Animation, Meryl Streep struck gold with Julie & Julia (one of two nominations), and Jason Reitman got his well-earned Screenplay award for Up in the Air - but did anyone see Robert Downey Jr winning Best Comedy Actor for Sherlock Holmes? Even fewer predicted The Hangover walking away with Best Comedy Picture. Mostly because (500) Days of Summer deserved it.

But on a night when sense when out the window and blue was the in colour, it's hard to grumble about such as thing as taste. Who needs that when you've got $500 million and a fistful of 3-D glasses? Taste certainly ran away once our host Ricky Gervais found his stride. Quipping, plugging and drinking his way through the evening, he came up with several corkers which stunned the room of stars ("I like a drink as much as the next man. Unless the next man is... Mel Gibson!")

The highlight, however, was Martin Scorsese's win of the Cecil B DeMille Award, which saw Robert De Niro and Leonard DiCaprio graphically describing the director's sexual affair with film reel. Then old Marty himself stood up and waggled his eyebrows for a bit. It was lovely.

There were some TV shows in there too. Including Mad Men, of course. Glee won stuff as well. But the memory the stays in my head? Arnold Schwarzenegger trying to pronounce "Avatar". Read on for the full list of winners. And a clip of Arnie's incredible tribute to James Cameron. And then head over here for our full-on golden photo gallery of winners.
Best Motion Picture - Drama
Avatar

Best Motion Picture - Comedy Or Musical
The Hangover

Best Animated Feature Film
Up

Best Foreign Film
The White Ribbon

Best Actor, Motion Picture - Drama
Jeff Bridges, Crazy Heart

Best Actress, Motion Picture - Drama
Sandra Bullock, The Blind Side

Best Actor, Motion Picture - Comedy Or Musical
Robert Downey Jr, Sherlock Holmes

Best Actress, Motion Picture - Comedy Or Musical
Meryl Streep, Julie & Julia

Best Supporting Actor, Motion Picture
Christoph Waltz, Inglourious Basterds

Best Supporting Actress, Motion Picture
Mo'Nique, Precious

Best Director, Motion Picture
James Cameron, Avatar

Best Screenplay, Motion Picture
Jason Reitman & Sheldon Turner, Up In The Air

Best Original Song, Motion Picture
T Bone Burnett, 'The Weary Kind', Crazy Heart

Best Original Score, Motion Picture
Michael Giacchino, Up

Cecil B DeMille Award
Martin Scorsese

Best TV Series, Drama
Mad Men

Best TV Series, Comedy Or Musical
Glee

Best Actor, TV Series - Drama
Michael C Hall, Dexter

Best Actress, TV Series - Drama
Juliana Margulies, The Good Wife

Best Actress TV Show, Comedy Or Musical
Toni Colette, United States Of Tara

Best Actor, TV Series, Comedy Or Musical
Alec Baldwin, 30 Rock

Best Miniseries Or TV Movie
Grey Gardens

Best Actor In Miniseries Or TV Movie
Kevin Bacon, Taking Chance

Best Actress In Miniseries Or TV Movie
Drew Barrymore, Grey Gardens

Best Supporting Actor, TV Series Or Miniseries
John Lithgow, Dexter

Best Supporting Actress, TV Series Or Miniseries
Chloe Sevigny, Big Love
Tags:
avatar
award
golden globes
james cameron
jeff bridges
nomination
winner