| | | |
| --- | --- | --- |
| WGA Nominations Announced | | |
Written by Ivan Radford
Tuesday, 12 January 2010 08:39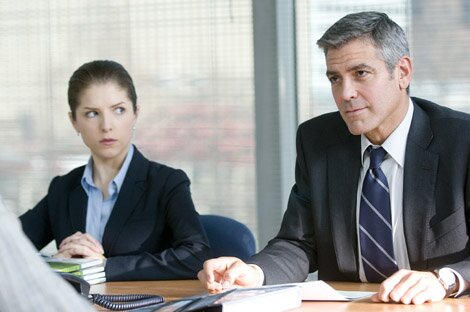 Another day, another set of nominations. Now it's the turn of the Writers Guild of America to name their best of the year. And, surprise surprise, Avatar's in there. For what? A pretty blue typeface? The more deserving stuff is thankfully in there too, from Mark Boal's Hurt Locker to The Hangover. But when it comes to Original Screenplays, nothing can compete with the witty (500) Days of Summer. Well, nothing except for the complex and mature effort from the Coens, A Serious Man.

The Adapted Screenplay market has its share of questionable titles as well. Well, Julia & Julia. But while Precious may pack a punch, it's things like Star Trek that may well draw the WGA's attention. The clear-cut winner, though, is Jason Reitman and Sheldon Turner's intelligent and entertaining Up in the Air.

For Best Documentary Screenplay, it looks to be battle between Michael Moore and dolphins - Capitalism: A Love Story and The Cove are likely contenders for the prize. The winners will be revealed on Saturday 20th February. Read on for the full list of nominees in each category.
ORIGINAL SCREENPLAY
(500) Days of Summer, Written by Scott Neustadter & Michael H. Weber; Fox Searchlight
Avatar, Written by James Cameron; 20th Century Fox
The Hangover, Written by Jon Lucas & Scott Moore; Warner Bros.
The Hurt Locker, Written by Mark Boal; Summit Entertainment
A Serious Man, Written by Joel Coen & Ethan Coen; Focus Features
ADAPTED SCREENPLAY
Crazy Heart, Screenplay by Scott Cooper; Based on the novel by Thomas Cobb; Fox Searchligh
Julie & Julia, Screenplay by Nora Ephron; Based on the books Julie & Julia by Julie Powell and My Life in France by Julia Child with Alex Prud'homme; Sony Pictures
Precious: Based on the novel Push by Sapphire, Screenplay by Geoffrey Fletcher; Based on the novel Push by Sapphire; Lionsgat
Star Trek, Written by Roberto Orci & Alex Kurtzman; Based upon Star Trek, Created by Gene Roddenberry; Paramount Picture
Up in the Air, Screenplay by Jason Reitman and Sheldon Turner; Based upon the novel by Walter Kirn; Paramount Picture
DOCUMENTARY SCREENPLAY
Against the Tide, Screenplay by Richard Trank; Moriah Films
Capitalism: A Love Story, Written by Michael Moore; Overture Films
The Cove, Written by Mark Monroe; Lionsgate and Roadside Attractions
Earth Days, Written by Robert Stone; Zeitgeist Films
Good Hair, Written by Chris Rock & Jeff Stilson and Lance Crouther and Chuck Sklar; Roadside Attractions
Soundtrack for a Revolution, Written by Bill Guttentag & Dan Sturman; Freedom Song Productions and Louverture Films
Tags: