Star Ratings
| | |
| --- | --- |
| | Amazing |
| | Well good |
| | Fun |
| | Meh |
| | Rubbish |
| | | |
| --- | --- | --- |
| Raindance Film Review: Sado Tempest (Arashi) | | |
Written by Ivan Radford
Friday, 28 September 2012 15:46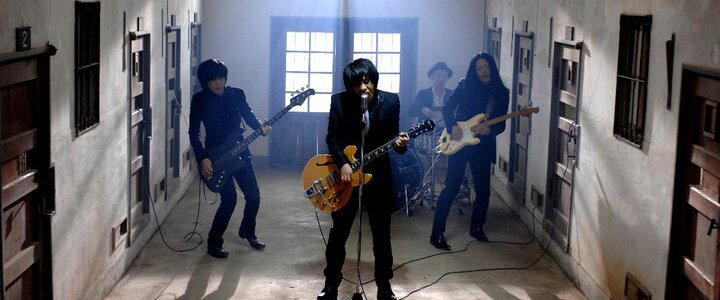 Director: John Williams
Cast: Hirotaro Honda, Noriko Eguchi, Yoji Tanaka
Showtimes
A Japanese sci-fi rock musical version of The Tempest. Now there's a sentence you don't here every day. But Sado Tempest is just that: a bonkers idea for a film that screams ambition, creativity and shiny haircuts. The really impressive bit (apart from the hair)? It actually pulls it off.
Kicking off with a shouty music number, Sado Tempest sets the futuristic mood quickly: gorgeous black and white images, anti-establishment lyrics, sinister men in suits. But then everything changes and we're dumped on the remote Sado Island with our rebellious rock band, the hordes of screaming fans replaced by a sadistic warden.
It's a superb demonstration of how to use a location: the barren landscapes sing depression from the off, the clouded sky and stormy ocean telling more of the island's bewitched history than the dialogue. And against it all, the bright pink jumpsuits of our trapped musicians stand out – an effective splash of defiant colour.
One of Shakespeare's vaguest works, The Tempest is rich because of the variety of ways it can be interpreted. But Arashi is less a direct retelling of the play and more a sci-fi musical that happens to be set within the same universe. Miranda eventually appears, quoting Ariel from The Bard's text, followed by her magical father (called Omuro), but things don't get more explicit than that.
What Williams does instead is stick to his guns: his concept is enough to entertain, bursting into music video segments full of stylish camerawork and catchy guitars. Music then becomes the magic of the play, a cyclical presence that can restore balance as much as upset nature. And that alone makes Arashi a neatly conceived treat. That and the fact that it's a Japanese sci-fi rock musical version of The Tempest.
It may not the best Shakespeare movie out there, but at 94 minutes, it's one of the shortest. And it certainly has the best haircuts.