Star Ratings
| | |
| --- | --- |
| | Amazing |
| | Well good |
| | Fun |
| | Meh |
| | Rubbish |
| | | |
| --- | --- | --- |
| LFF Review: A Dangerous Method | | |
Written by Selina Pearson
Monday, 24 October 2011 16:39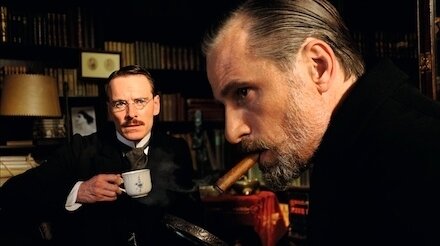 Director: David Cronenberg
Cast: Keira Knightley, Michael Fassbender, Viggo Mortensen
Showtimes
David Cronenberg takes on Christopher Hampton's play about the birth of psychoanalysis or "talking therapy" at the beginning of the 20th Century. A hysterical Sabina Speilrein (Knightley) is dragged into a Zurich mental hospital, where Carl Jung (Fassbender) attempts to treat her with Sigmund Freud's radical new approach. Meanwhiel, over in Vienna, Freud (Mortensen) has yet to publish a case of treatment using his new method of psychoanalysis. It may or may not involve spanking.
Sabina seeks out punishment, deriving excitement out of it, while Jung seeks to cure her of it. (Note: At this point, there's no actual spanking.) Sabina, having assisted Jung in his clinical practice (still no spanking), then enrols in the medical school in Zurich with the intention of studying psychiatry. She does very well. Still no spanking.
Meanwhile, Freud sends the sex-addicted Dr Otto Gross (played brilliantly by Vincent Cassel) to Jung for treatment, but Gross has more of an influence on him: "You're telling me you've never slept with any of your patients?" gasps Cassell, incredulously. Otto's influence combined with Sabina's propositions leads to some spanking from Jung (spanking!), although he then feels all guilty for being unfaithful to his wealthy, fecund wife.
It's an oddly hilarious film - perhaps not intentionally. Viggo Mortensen is gloriously deadpan as the witty Freud and Fassbender does well as the conflicted Jung, but the bizzarest performance belongs to Knightley; her fits and psychosis are portrayed well, if you can get past her ridiculous Russian accent.
Freud and Jung are both played fairly neutral, but Knightley's accent gets distracting. Laughably so. Despite (or possibly because of) this, A Dangerous Method is a hugely enjoyable psychoanalytical romp. Still, it needs more spanking.

Tags:
a dangerous method
keira knightley
viggo mortensen