Star Ratings
| | |
| --- | --- |
| | Amazing |
| | Well good |
| | Fun |
| | Meh |
| | Rubbish |
| | | |
| --- | --- | --- |
| LFF Review: Junkhearts | | |
Written by Ivan Radford
Sunday, 23 October 2011 17:27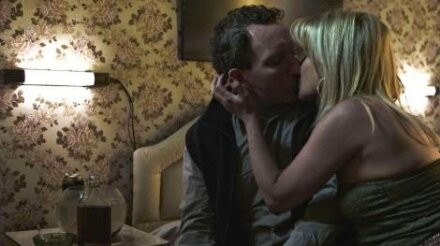 Director: Tinge Krishnan
Cast: Eddie Marsan, Candese Reid, Tom Sturridge, Romola Garai
More info
Frank (Marsan) is a lonely ex-soldier with no family and a fondness for booze. When Lynette (Reid) walks into his life off the streets, he takes the chance to make a connection. He gives her a place to stay, buys her a sleeping bag, and feeds her multi-packs of cereal. So begins Tinge Krishnan's junkie drama.
It's a believable relationship and both actors take the chance to show off their natural presence and chemistry. Then Lynette's menacing boyfriend (Sturridge) enters the scene, taking over Frank's sofa and dealing drugs in his living room – and the whole film goes up in smoke.
The story becomes blurred as the laboured script overdoses on violent threats and angry teenagers. The performances are superb – it's one of the few times you'll see an Eddie Marsan sex scene, and Reid is a real find – but by the time Frank's running around the streets with a massive beard and bleeding from the forehead, the plot holes need a severe injection of logic. And introducing Romola Garai as a subplot isn't the answer - even Lynette's sleeping bag gets more screen time.
Junkhearts lines up a great cast to shoot, but ultimately ends up wasted.

Tags:
eddie marsan
junkhearts
romola garai
tinge krishnan
tom sturridge