Star Ratings
| | |
| --- | --- |
| | Amazing |
| | Well good |
| | Fun |
| | Meh |
| | Rubbish |
| | | |
| --- | --- | --- |
| LFF Review: King Curling | | |
Written by Ivan Radford
Sunday, 23 October 2011 08:56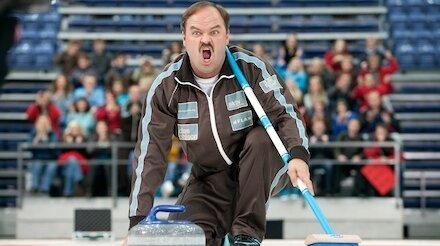 Director: Ole Endresen
Cast: Atle Antonsen, Jan Sælid, Jon Øigarden, Linn Skåber, Ane Dahl Torp
Showtimes
A curling champion who suffers from OCD. A man who hasn't slept for three months. A bloke with no hair who has lots of sex. And Steve, who thinks he's a pirate. This ragtag group of Norwegians pull together to play curling in this sports comedy. Except for that last guy. He's from Dodgeball.
That's clearly the kind of film director Ole Endresen is aiming for, but King Curling misses by quite a way. It's not that the premise doesn't work (although the depiction of OCD is debatable) or the performances are bad, it's just not very funny.
Atle Antonsen's team captain has a strong deadpan presence and the ensemble clearly know how to improvise, but the jokes fall flat. Maybe it's lost in translation - the silly farce has a very European feel to it, from the jokes about boring Norwegian daytime TV and the choice of curling itself, to the film's bizarre obsession with people wearing wigs.
At times, the relentless onslaught of Scandinavian slapstick wears you down and you let out the odd chuckle. One romantic scene between Antonsen and a fellow funny farm inmate has a decent gag, and another team member has an amusing rant about pillows, but the rest gets lost in a sludge of dogs, midgets, and sex. At only 75 minutes, the lack of material is a worrying suggestion that something's missing somewhere - it's never a good sign when you spend more time laughing at a character's moustache than his jokes.
It tries to thaw your funny bone, but this icy comedy will mostly leave you feeling cold. King Curling? It's closer to toe curling. 

Tags:
ane dahl torp
atle antonsen
dodgeball
jan sælid
jon øigarden
linn skåber
norway
ole endresen