Star Ratings
| | |
| --- | --- |
| | Amazing |
| | Well good |
| | Fun |
| | Meh |
| | Rubbish |
| | | |
| --- | --- | --- |
| LFF Review: Nobody Else But You | | |
Written by Ivan Radford
Friday, 21 October 2011 09:49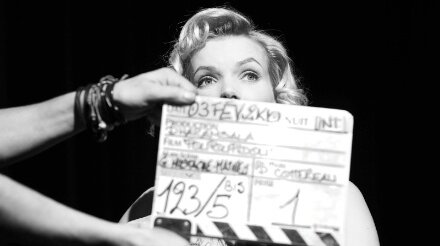 Director: Gérald Hustache-Mathieu
Cast: Jean-Paul Rouve, Sophie Quinton, Guillaume Gouix, Arsinée Khanjian
Showtimes
Pulp crime writer David (Rouve) heads to Mouthe in search of his next story. In the icy fields outside the town, he finds it: Candice (Quinton), the local weather girl and part-time model, who lies dead in the snow with a bottle of sleeping pills.
Why did she kill herself? Was it actually murder? David takes it upon himself to investigate. Secret affairs, missing diaries and political scandals are all buried under the ice and director Hutsache-Mathieu has great fun digging them out. Rouve's detective has the charisma of an old gumshoe, while Quinton's glamorous victim narrates from beyond the grave with a knowing smile.
Playfully riffing on Marilyn Monroe's life (including a great, scratchy cover of the titular number), Nobody Else But You has all the intrigue of a chilling noir and all the dark humour of a snowbound Kiss Kiss Bang Bang. Some Like It Cold? With such cool class and witty writing, it's hard not to.

Tags:
arsinée khanjian
gerald hustache-mathieu
guillaume gouix
jean-paul rouve
nobody else but you
sophie quinton