Star Ratings
| | |
| --- | --- |
| | Amazing |
| | Well good |
| | Fun |
| | Meh |
| | Rubbish |
| | | |
| --- | --- | --- |
| LFF Review: The Descendants | | |
Written by Selina Pearson
Thursday, 20 October 2011 17:04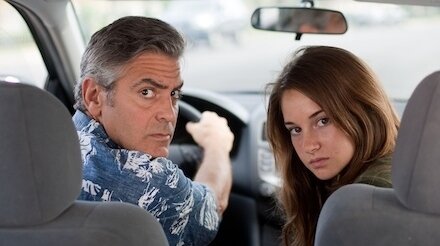 Director: Alexander Payne
Cast: George Clooney, Shailene Woodley, Beau Bridges, Judy Greer
Showtimes
Hawaii isn't just a surfer's tropical paradise or a tourist's garden of Eden. It's a place where real people live. In the words of Clooney's lawyer Matt King, "Paradise just can f*** itself". King has been living in a world of saline drips and cannulae for the last three days - ever since his wife had a boating accident, Matt has had to put down his paperwork and pick up his life.
He has some serious parenting to do, his two attention-seeking daughters having been somewhat neglected up until now. He has to break the news about his wife to her parents, taking low level abuse from his father-in-law as a matter of course. He also has to deal with the sale of an unearned piece of untouched Hawaiian wilderness that his family to the highest bidder. But while wondering if Hawaii actually needs another golf course, he realises exactly how far apart he and his wife have drifted.
While attempting to make things right with her friends and family, he takes along his daughters, Scottie (Miller), a troublesome 10 year old, and Alex (Woodley), a stroppy alcoholic, and her moronic friend Side, who should probably learn to keep his mouth shut. The group bond together as they say goodbye to the mother, leading to some muted sad moments - but Alexander Payne's script doesn't dwell on loss, instead focusing on the relationships between the living.
A coming-of-age story about a 50 year old man, Payne's follow up to Sideways sports some genuine laugh-out-loud moments, making it a surprisingly easy watch. The Descendants is pleasant, rather than mawkish, and all the better for it.

Tags:
alexander payne
beau bridges
judy greer
shailene woodley
the descendants