Star Ratings
| | |
| --- | --- |
| | Amazing |
| | Well good |
| | Fun |
| | Meh |
| | Rubbish |
| | | |
| --- | --- | --- |
| LFF Review: Miss Bala | | |
Written by Ivan Radford
Wednesday, 26 October 2011 23:26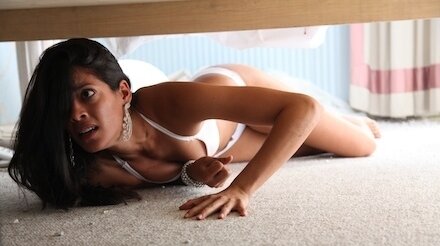 Director: Gerardo Naranjo
Cast: Stephanie Sigman, Irene Azuela, Noe Hernández, James Russo, José Yenque
Showtimes
Miss Bala is the story of an ordinary girl. Like all girls, she wants to be a beauty queen, because winning a pageant is the only way out of her downtrodden life in Mexico. The night before an audition, she winds up in a nightclub with her friend Suzu and witnesses a gang murder. Things go downhill from there.
Adopted into the gang by ringleader Lino, Laura (Sigman) is in a bit of a pickle. If she were Whoopi Goldberg, she could just hide in a convent. But this is Mexico, a land of cartels and conflict, and things aren't so simple. Where is Suzu? Is her son safe? And what about that beauty pageant?
These are the questions that drive Laura to agree to help gang ringleader Lino. She's soon moving cars, smuggling ammo and stuffing money down her dress in exchange for information on her missing friend. It's a violent world, where cops are as brutal as gangsters and everyone has a moustache, and we see it all through Laura's naive eyes - using long takes to sweep across scenes and reveal details hidden out of frame, the gritty action sequences are deftly shot by director Gerardo Naranjo. In a style reminiscent of Children of Men, shoot-outs are given a sense of urgency as we track past windows and cars that shatter without warning. 
But for all this presentation, Miss Bala is missing an engaging lead. Given the effectiveness of following such an innocent protagonist (and Sigman's believable performance), it's ironic that the titular lady is so blandly uninteresting. In between being sexually assaulted in cars, our heroine gets pushed up the beauty pageant chain by her criminal connections. Her reaction? She runs away. "I thought you wanted to be a beauty queen?" asks Lino. "Yes, but not like this," Laura replies. That's about as close to character as the script gets. Unless you count her abandoning her son at home and barely mentioning him again for 113 minutes.
With a titular heroine that's more a vehicle for plot than an actual character, Miss Bala may not be emotionally engaging, but it's gripping stuff.

Tags:
children of men
gerardo naranjo
irene azuela
james russo
josé yenque. miss bala
noe hernández
stephanie sigman