Star Ratings
| | |
| --- | --- |
| | Amazing |
| | Well good |
| | Fun |
| | Meh |
| | Rubbish |
| | | |
| --- | --- | --- |
| LFF Review: Shock Head Soul | | |
Written by Selina Pearson
Thursday, 20 October 2011 08:06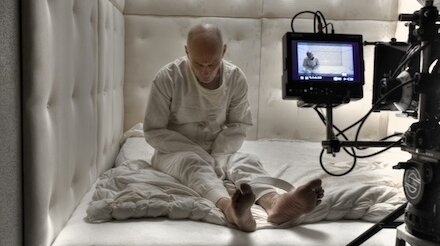 Director: Simon Pummell
Cast: Hugo Koolschijn, Anniek Pfeiffer, Thom Hoffman
Showtimes
In 1892, high court judge Daniel Paul Schreber's mental condition starts to deteriorate. This spell of madness lasts 10 years, but has a lasting impact on the way we now treat mental illness. He is admitted to Leipzig University Psychiatric clinic with delusions that God is instructing him to become a woman - and hallucinating steampunk jellyfish, as you do. Throughout his experiences, Schreber documents his thoughts, which are later published as a book, Memoirs of My Nervous Illness. Now, with this semi-dramatisation, these thoughts continue to give us a unique insight into schizophrenia.
Schreber fights to be free of the institution with the help of his wife, by arguing in court that he is not a danger to others. His freedom and his wife do a great deal for his mental stability, something that conventional treatments at the time weren't necessarily helping with. The turn of the century was a unique time for psychology; there was a renaissance in neurological research, people had observed brain cells and knew about the connections, and madness was being thought of as a disease with a physiological basis rather than as something supernatural or divine.
To explore this, Pummell's film is also part-documentary. It takes various psychiatrists, psychologists, psychoanalysts and historians, puts them in period dress and gets them to asses Schreber, applying present day knowledge to his condition. This is nothing new to his case - one of the things that made Schreber's book so prominent was that Sigmund Freud analysed it and published his own on the subject - but the academics give a useful insight into what was going on inside Schreber's head, as well as the barbaric methods used to treat mental illness at the time.
There are some odd moments where the academics are counselling Schreber's wife, which interrupt the narrative and prevent the viewer getting too emotionally involved in the film, but it's probably no bad thing. The factual segments put Shock Head Soul firmly in educational territory, and it it will no doubt become essential viewing for psychology students. It's certainly an interesting watch, but you'll need to pay attention to get the most out of it.

Tags:
anniek pfeiffer
freud
hugo koolschijn
shock head soul
simon pummell
thom hoffman