Star Ratings
| | |
| --- | --- |
| | Amazing |
| | Well good |
| | Fun |
| | Meh |
| | Rubbish |
| | | |
| --- | --- | --- |
| LFF Review: The Ides of March | | |
Written by Ivan Radford
Wednesday, 26 October 2011 12:44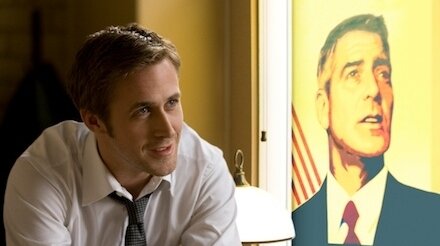 Director: George Clooney
Cast: Ryan Gosling, George Clooney, Paul Giamatii, Phillip Seymour Hoffman
Showtimes
Politics is bad. It's shocking, I know, but it turns out that Presidential Elections are a hotbed of backstabbing and betrayal. Which is why the morally-minded Governor Morris (Clooney) offers such a ray of hope for assistant campaign manager Steve (Gosling). But can ethics and idealism survive in such a cutthroat world? (Spoiler: it can't.)
Clooney's The Ides of March may not be saying anything new but it's still a thrilling look at ambition and hubris. Up against Paul Giamatti's rival campaign manager, Steve's naïve commitment to his beliefs is a likeable trait in someone so detached from society – Gosling's charisma levels are through the roof as he works the press, blackmails his colleagues and, yes, even screws the intern (Rachel Wood).
The whole ensemble is immensely watchable, particularly Phillip Seymour Hoffman's loyalty-obsessed boss, and the clipped dialogue of Beau Willimon's original play is flawlessly adapted for the screen. Plaudits will also inevitably go to the direction, which puts silhouettes of men in front of the American flag without a whiff of cheese – one smart decision sees a crucial conversation take place behind closed doors, cutting us out of the political loop completely.
As the double-crosses keep on coming, Grant Heslov's co-written script keeps you on tenterhooks. It's like watching The West Wing, but with more shades of grey. And in the midst of it all, Clooney's hopeful candidate (added especially for the film) fades into the background, masked by a wall of sex and corruption.
The Ides of March won't shock you with the lack of ethics on show, but you'll be punched hard in the ballot box by its sheer quality. It doesn't feel as personal as Good Night, and Good Luck, but when it comes to award-worthy class and political tension, The Ides most definitely has it.
VERDICT
I vote Hell Yes.

Tags:
beau willimon
evan rachel wood
farragut north
grant heslov
paul giamatti
phillip seymour hoffman
the ides of march