Star Ratings
| | |
| --- | --- |
| | Amazing |
| | Well good |
| | Fun |
| | Meh |
| | Rubbish |
| | | |
| --- | --- | --- |
| LFF Review: The Artist | | |
Written by Ivan Radford
Tuesday, 18 October 2011 14:13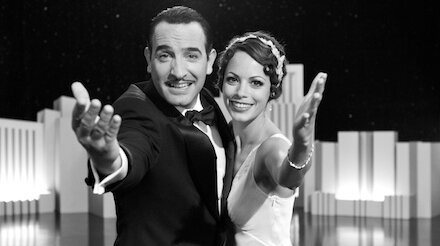 Director: Michel Hazanavicius
Cast: Jean Dujardin, Bérénice Bejo, James Cromwell, John Goodman, Malcolm McDowell, Uggy the Dog
Certificate: PG
Release Date: Friday 30th December 
Trailer 
After a year of rapes, killings, break-ups and Michael Bay movies, sometimes you just want to watch a film that's happy. And wonderful. And black-and-white. And silent. Perhaps something that involves tap dancing. Or moustaches. The Artist is all of these. And it has a dog.
Michel Hazanavicius' tribute to silent cinema sees the career of Hollywood star George Valentin (Dujardin) losing steam as talkies start to arrive. His money dries up, his wife leaves him, and his movies (A Russian Affair! A German Affair!) become relics. The only things he has left are his butler and his dog. And a whirlwind romance with rising starlet Peppy Miller (Bojo) - Hazanavicius has a lot of fun with his characters, giving them names almost as memorable as his own.
Both leads are ridiculously fantastic, enjoying the chance to express themselves without boring old speech. Hamming it up as Valentin's dashing Hollywood legend, Dujardin has a knack for physical comedy – his eyebrows alone deserve their own mention in the credits. Bojo, too, is vivacious, a bubbling pot of sex appeal and sharp timing.
Crucially, neither of them over-act. "People are sick of actors gurning at the camera to be understood," says Peppy of Valentin's fading era. Indeed, where another director may have been overly reliant on title cards, here they are almost non-existent as Hazanavicius leaves us to follow the dialogue ourselves. It's a bizarrely modern approach to the old-school style, but one that feels at home among the bold lighting and Ludovic Bource's impeccably varied score.
The visuals throughout are warm and rich. Hazanavicius allows himself the odd flourish, playing on reflections with one dizzying upside down shot, but carefully crafts a silent world so absorbing that a sequence involving sound interrupts the film like a harsh nightmare. It's a wonderfully self-aware moment, but while the writing is smart, The Artist feels like more than just a clever pastiche. These characters move and engage, to the point where you barely register the names in the supporting cast, which includes John Goodman, Malcolm McDowell and James Cromwell - not to mention Uggy the Dog. And the emotional pay-off (a moment significantly stripped of any music) is as effective as any classic Hollywood movie.
Oh yes, they don't make films like this anymore. Not in terms of the black-and-white images or the silent soundtrack – The Artist stands out from modern cinema because it's a rare pleasure to watch something so irresistibly cheerful.
VERDICT 
The Artist is a feel-good treat, pure and simple. You'll swoon, you'll sigh, you'll want to tap dance. And you'll want a dog.
What did you think of the film? 
( 2 Votes )
Tags:
bérénice bejo
james cromwell
jean dujardin
john goodman
malcolm mcdowell
michel hazanavicius
michel hazavanicius
the artist