Star Ratings
| | |
| --- | --- |
| | Amazing |
| | Well good |
| | Fun |
| | Meh |
| | Rubbish |
| | | |
| --- | --- | --- |
| LFF Review: The Dish and the Spoon | | |
Written by Ivan Radford
Tuesday, 18 October 2011 12:03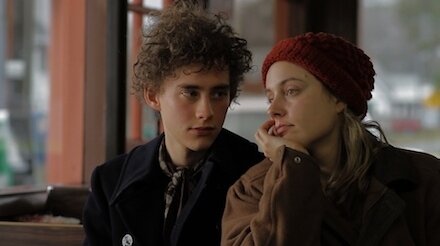 Director: Alison Bagnall
Cast: Greta Gerwig, Olly Alexander
Showtimes
The Dish and the Spoon is the story of an unlikely odd couple. Not only are they very different – one is a wife angry at her unfaithful husband, the other a wandering teenager with no home – but they're both very odd, in a typical, indie, kooky kind of way (read: he wears a cravat).
But Alison Bagnall's cute romance makes for an endearing 90 minutes, even if its script needs work. For one thing, no-one would ever cheat on Greta Gerwig. Especially when she's wearing a hat.
Back on solid mumblecore ground (mumbleground) after her upscale turns in Arthur and No Strings Attached, Gerwig is typically brilliant as Rose. Filled with rage (even while wearing pyjamas), she comes across the weird youth (Alexander) in a seaside watchtower, only to shack up with him in her empty summer house.
They laugh, they joke, they lie around in graveyards. All the usual quirky things that Greta Gerwig can do with her eyes closed while taking 18th Century dance lessons - which is a good job, because they do that too. But the ensemble-written screenplay actually delivers some surprising (and effective) blows. One scene sees the pair cross-dress, allowing Rose to do some vulnerable role play. Later, she rings her husband, ferociously screaming abuse until her voice turns hoarse. Then she goes quiet, ending the phone call with "um"s and "OK"s before timidly hanging up.
It's a range that never feels forced – Gerwig remains believable whether she's stealing beer from a brewery or suffocating a woman with her bare hands.
Despite its familiar format and obvious visuals, The Dish and the Spoon just about carves out an identity of its own thanks to its cast. If you can accept that someone would cheat on Greta Gerwig, this a moving and sincere drama. If not, it's an hour and a half of her wearing hats. Which is also worth watching.

Tags:
alison bagnall
greta gerwig
olly alexander
the dish and the spoon