Star Ratings
| | |
| --- | --- |
| | Amazing |
| | Well good |
| | Fun |
| | Meh |
| | Rubbish |
| | | |
| --- | --- | --- |
| LFF Review: Tales of the Night (3D) | | |
Written by Selina Pearson
Tuesday, 18 October 2011 08:25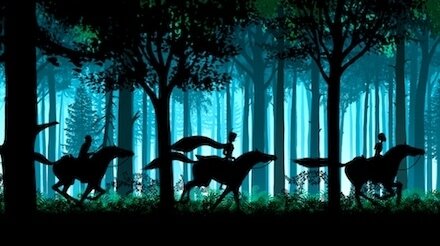 Director: Michel Ocelot
Cast: Julien Beramis, Marine Griset, Michel Elias
Showtimes
Tales of the Night is a beautiful piece of fairytale 3D animation, infuriatingly hindered by its clichéd folktale roots. A trio of storytelling enthusiasts gather at a deserted cinema and act out stories from around the world. There are six tales in all ranging from a traditional western telling of The Werewolf, to the Tibetan offering The Boy Who Never Lied, and the whimsical Caribbean ditty Ti–Jean and Beauty Not Known.
Initially, the tales are charming. The animation is a stunning combination of silhouettes and colour - it's the best use of 3D I've seen in a while - and the crystal clear images make Tales of the Night a joy to watch. Sadly, the tales suffer by being inextricably bogged down by their own baggage. At times, they completely lack logic, and while you can forgive this because they're fairy tales where true love conquers all, some of them are just plain daft.
The female character's obsession with getting to wear pretty dresses gets rather grating by the third tale - not every woman in fiction is a beautiful princess - to the point where my internal monologue spent the second half of the film in a wild feminist rant. The only story with a strong female protagonist is the first, The Werewolf, where the beautiful princess saves the boy. These problems seem to be intrinsic to the stories themselves, but I refuse to believe that all fairy tales are inherently misogynistic. And let's not even talk about the stupid story about human sacrifice.
A visually stunning use of 3D - it's just a shame the stories are so one dimensional.

Tags:
julien beramis
marine griset
michael ocelot
michel elias
tales of the night