Star Ratings
| | |
| --- | --- |
| | Amazing |
| | Well good |
| | Fun |
| | Meh |
| | Rubbish |
| | | |
| --- | --- | --- |
| LFF Review: The Machine That Kills Bad People | | |
Written by Ivan Radford
Saturday, 15 October 2011 14:42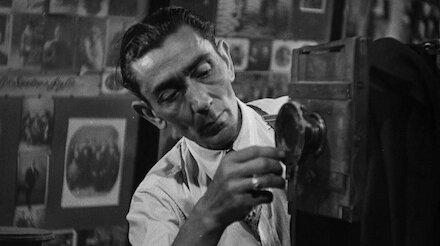 Director: Roberto Rossellini
Cast: Gennaro Pisano
Showtimes
Rosselini's 1952 movie, a fantastical comedy about morals, corruption and a magical camera that kills people, is a bizarre and likeable piece. Once thought lost, it's now been restored for this year's London Film Festival. And it's a good job they have. Where else, other than festival run by the BFI, would you get the chance to watch it?
Celestino (Pisano) is a photographer sick of the power-hungry officials and selfish residents in his Italian town. One day, a man who looks a lot like the town's patron saint appears and gives Celestino's camera the power to steal people's souls.
Chaos and death ensues, as an old woman's will is chased by greedy mayors and relatives alike. All the while, an American family of tourists move around the village, convinced that they carry a curse with them into each new home.
This farcical nonsense is framed by a neat sequence, in which the director introduces the characters and location using cardboard props, then brings them to life through cinema. A commentary on the power possessed by cinema as much as a reflection on the corrupting influence of America, Rossellini's film is hardly a classic, but its an amusing outing that shows us a world where demons and saints are so easily confused that not even a movie camera can tell the difference. 
The Machine That Kills Bad People is being shown at the London Film Festival in a double-bill with Voyage Dans La Lune, George Méliès' seminal short. With a modern electro soundtrack by Air and the original's trippy colourisation carefully restored, the two movies combine to make a charming LFF antidote to harrowing stories of sex addiction and dull tales of global interconnection.

Tags:
gennaro pisano
georges melies
lff review
roberto rossellini
the machine that kills bad people
voyage dans la lune