Star Ratings
| | |
| --- | --- |
| | Amazing |
| | Well good |
| | Fun |
| | Meh |
| | Rubbish |
| | | |
| --- | --- | --- |
| LFF Review: Like Crazy | | |
Written by Ivan Radford
Saturday, 15 October 2011 17:27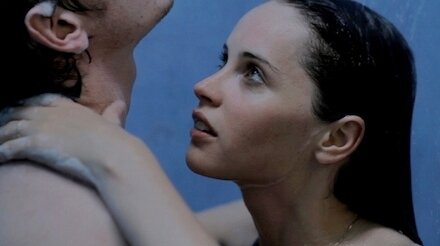 Director: Drake Doremus
Cast: Felicity Jones, Anton Yelchin
Trailer
Like Crazy is one of those anti-rom-coms that claims to break movie cliches and be truthful and stuff. The problem with that is it can easily fall into another set of cliches - those of the anti-rom-com that claims to break movie cliches and be truthful and stuff. But Drake Doremus' indie flick does actually do something different to the norm. Perhaps not emotionally, but structurally. Which makes its cliche-breaking even more moving. And truthful. And stuff.
Anna (Jones) is an English student in America, who falls madly in love with Jacob (Yelchin), a mild-mannered carpenter who designs chairs. Rushing through a heady montage of dates, walks, notes and sex scenes, their romance is at once believable - the actors' improvisation is spot-on and the natural chemistry excellent, even if the amount of intense staring between them does make Anton Yelchin look like a serial killer.
But like an idiot in love (read: an idiot), Anna decides to flout her visa restrictions and stay in America for an extra two months after graduation, a move which makes it impossible for her to visit Jacob again because The Man won't let her back into the country (down with the man and his strict customs regulations).
And so the two try a long-distance relationship. Here's where Doremus really plays his trump card. We cut between Anna and Jacob as they go on and off with each other. As time passes, other people appear in their bedrooms and workplaces. Jennifer Lawrence suddenly starts answering Jacob's phone, and in one inspired moment, Anna storms out of an argument with Jacob, only to reenter the kitchen and greet new lover Simon.
The jumpy editing could fragment things, but it's a clever device that nails the emotional confusion of the two leads. The cast are all great (kudos to Alex Kingston's mum), which means we're engaged enough to stay conflicted - the usual rom-com obstacles are notably absent from the story, but we're not even sure whether we want Anna and Jacob to be together at all.
Doremus has created a superbly disjointed piece here, with beats of dramatic tension that really resonate - it boasts a brilliantly awkward marriage proposal and a shower scene with all the poignancy of The Graduate. Thanks to the excellent editing and earnest acting, Like Crazy is a superb little anti-rom-com that breaks some cliches and obeys others, but that doesn't make it any less truthful. And stuff.

Tags:
alex kingston
anton yelchin
drake doremus
felicity jones
jennifer lawrence
like crazy