Star Ratings
| | |
| --- | --- |
| | Amazing |
| | Well good |
| | Fun |
| | Meh |
| | Rubbish |
| | | |
| --- | --- | --- |
| Raindance Review: Stranger Things | | |
Written by Ivan Radford
Saturday, 08 October 2011 09:42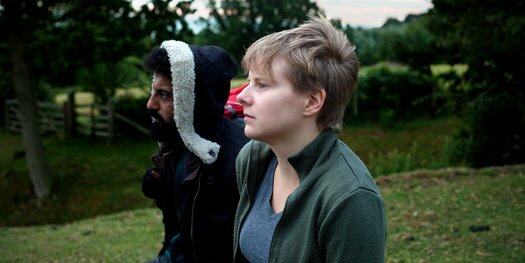 Grieving Oona (Bridget Collins) returns to her late mother's house in a quiet coastal village. Sorting through old possessions and cleaning the mould from the floorboards, she finds Mani (Adeel Akhtar) kipping on the living room floor. So she does what we all do with homeless people: invites him to live in her shed.
It's a small gesture in a film about small gestures. As Oona and the outsider begin to grow on each other, directors Eleanor Burke and Ron Eyal let the camera linger on tiny details. Oona's eyes. Manny's beard. A beetle crawling up a stick in the garden.
Of course, no-one talks very much. "How long have you been homeless?" asks Oona. Mani says nothing and stares straight ahead. Only later do we get a glimpse of his back story (and his own fading parent figure) as the dialogue starts to flow across the social divide between them.
But it's not the words that make their relationship work - it's the facial expressions, the smiles, and the hand movements that are all caught in careful close-up. Given each day's scene in isolation from the overall script, the two actors are absolutely 100% genuine with their roles. Understated chemistry builds up beautifully as the minutes tick by - it's just a shame the atmosphere's ruined a bit by the slightly forced turn from Oona's next door neighbour near the start.
Still, at only 77 minutes, Stranger Things keeps stuff short and sweet. The story may drop into over-sentimentality towards the end and the use of Oona's tape recorder to communicate her feelings to us is questionable, but this is moving film-making at its most raw. A mood poem more than a narrative, Stranger Things isn't quite a fully formed feature, but that's what makes it so engrossing.
Natural lighting and grainy picture quality add to the low-key vibe, but this is the actors' show from start to finish. And both are clearly no strangers to talent.

Tags:
adeel akhtar
bridget collins
ron eyal
stranger things