Star Ratings
| | |
| --- | --- |
| | Amazing |
| | Well good |
| | Fun |
| | Meh |
| | Rubbish |
| | | |
| --- | --- | --- |
| Avatar | | |
Written by Chris Keane
Monday, 14 December 2009 11:26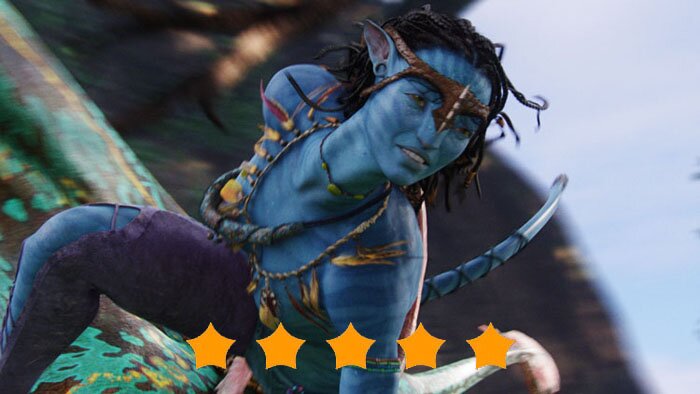 Director: James Cameron
Cast: Sam Worthington, Zoe Saldana, Sigourney Weaver, Stephen Lang, Michelle Rodriguez
Certificate: 12A
Trailer
Here at i-Flicks, we aren't the biggest fans of the 3-D film monster. It is slowly consuming every film - past, present and future - like the pink stuff in Ghostbusters II. But James Cameron's latest epic, Avatar, may have just about swayed our views.

Avatar is set in 2154, 4.4 light years away, on the alien moon, Pandora. It shadows the adventure of crippled marine Jake Sully (Worthington), who is thrust into the life of a scientist after the sudden death of his twin brother. Approached by the burly Colonel Miles Quaritch (Lang), Sully's matching genetic material makes him the perfect candidate to enlist in the Avatar program - a scheme developed to help the humans negotiate with Pandora's native savages, the Na'vi, for the precious element "Unobtainium" (oh yes, they did) in a bid to end Earth's ongoing energy crisis. Apparently all the energy talks going on right now fail miserably. Sorry, Barack. Cameron has foreseen it.

I am incredibly grateful that Cameron chose to delay his vision of the future until now, as I cannot begin to describe the visual orgasm that takes place while watching Avatar. Yes, it has the typical "Oh my gosh, I'm flying down a tunnel and look how 3D it is" moments, but like no other 3-D, Avatar allows you to fully appreciate every detail that's been fitted into the frame. The animation itself is phenomenal; there are no dead eyes here. The actor's emotions are actually visible. The people at WETA have outdone themselves. Again.

The story starts off a little weak, with your typical macho-man pushed out of the box, but Cameron manages to draw you in, doing away with fears of a dull, lifeless plot. Sully is pushed through all sorts of moral dilemmas, thanks to encountering Na'vi beauty Neytiri (Saldana) at a moment of certain death. Dilemmas which ultimately revolve around the question: "Do I want my legs back, or do I want to become Aragorn, and save a species from the onslaught of a corporate machine?"

The intricacies of the Na'vi and the clan we see (the Omaticaya) are wonderful. A believable culture is brought to life and by the end you will be able to relate to them and their ways, possibly causing all sorts of bodily fluids to start pouring out. The acting is solid throughout, despite the script's predictable dialogue failing to deliver at times. Sigourney Weaver's character manages to lighten up a few of the more serious moments, and as usual she delivers. The only question left is whether Michelle Rodriguez is able to play any role other than a hardcore, take-nothing-from-no-one chick. The answer's obvious. Sorry, Michelle. Cameron's foreseen that one too.

VERDICT

Stunning. A visual masterpiece, which will hopefully pave the way for a new era of 3-D films. Do yourself justice, and see this at the best cinema you can.
Your rating
( 6 Votes )