Star Ratings
| | |
| --- | --- |
| | Amazing |
| | Well good |
| | Fun |
| | Meh |
| | Rubbish |
| | | |
| --- | --- | --- |
| A Christmas Carol | | |
Written by Ivan Radford
Friday, 06 November 2009 14:13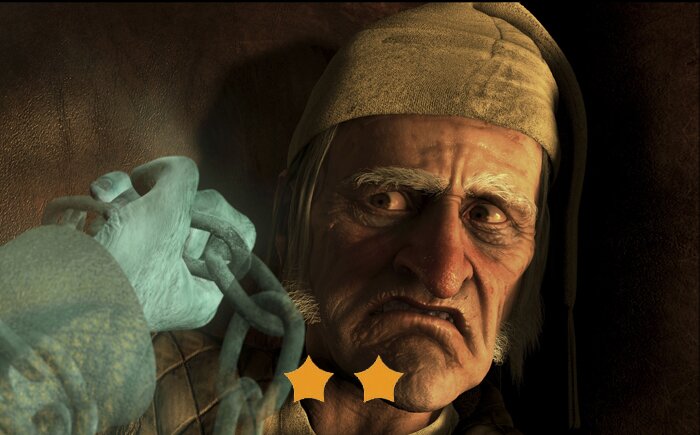 Director: Robert Zemeckis
Cast: Jim Carrey, Gary Oldman, Colin Firth
Certificate: 12A
"Marley was dead to begin with..." We all know how it goes, that classic Dickens tale of England past. Now, thanks to Robert Zemeckis, A Christmas Carol has gone all Polar Express. Because that's what you do to a beloved book: fill it with motion-capture CGI. Do you remember Who Framed Roger Rabbit? Robert's work was an animated revolution. But 21 years down the line, his 3-D, previously seen in such stellar fare as Beowulf, is less impressive. Did you know that 19th Century London was populated by the extras from Shrek 2?

Leading the pixellated pack is Ebenezer Scrooge (Carrey), voiced with a gruff English air. His face looks quite good - filled with wrinkles and lines, its a textured piece of Jim Carrey which serves the actor well, from growling grimace to cheery transformation. But, just in case you forget it's him, he's on hand to do all the other voices too. And so we have Jim Carrey as the Ghost of Christmas Past, with a weird Irish accent full of annoying 's' noises, the Ghost of Christmas Present, who for some reason sounds like Ringo Starr, and the Ghost of Christmas Future, who doesn't really say anything and just, sort of, points. Carrey still gets the credit for that, too.

Other larynxes along for the ride are Bob Hoskins, who does Fezziwig with good old-fashioned pomp, and Gary Oldman, whose face appears on a variety of people, body-snatcher style, from Bob Cratchett and Tiny Tim to Marley himself (who was dead to begin with). It's a partly American voice cast, but they're all alright. It's the visuals that don't work.

Digitising its actors has its purposes - for one, they can be moved anywhere with incredible ease. But when they start bouncing around and backflipping for no reason, the story starts to lose its credibility. Ah, it's a ghost story, you say, but with an over-athletic Fezziwig and a flexible, bendy Scrooge, the impact goes slightly up the chimney. So when Marley's jaw drops off, it's more slapstick than spooky; a betrayal of the atmosphere that was so carefully built up

In other places, there are unnecessary gimmicks, with transparent floorboards, flying houses and sparkly wallpaper. What happened to trusting in your source text? The 3-D is at its best in the obtrusive steeples and railings of the capital, not joyriding through the city in between plot points. In fact, Robert only seems happy when whooshing through the streets at breakneck speed; most of Carrey's work is just screaming very loudly. A Christmas Carol as envisioned by Disney is 10% Dickens and 90% falling - which roughly converts to 100% pointless.

There are some gloriously spooky bits (perhaps too spooky for younger children), with a jumpy doorknocker sequence and an eerie swarm of Marley-esque souls. But they're not as disturbing as Tiny Tim - the main victim of Shrek syndrome. One in a sea of emotionless, cold faces, Dicken's world is overrun by blank-looking humanoids. It's like somebody took a baby's face and stuck it on a robot.

You may enjoy the frosty feeling conjured up by A Christmas Carol, but there's always a part of you that's slightly freaked out by robo-Tim. Hobbling along in a virtual world, he's not a real boy. And that's what this film needs: actual people. Technology is all well and good, but capturing their movements on tape - didn't that use to be called filming?

VERDICT

Serviceable seasonal entertainment, but this is a far cry from The Muppet Christmas Carol. If you liked Polar Express, you'll love this. 
Your rating
( 0 Votes )
Tags:
3-d
a christmas carol
charles dickens
christmas
colin firth
film
i-flicks
jim carrey
motion capture