Star Ratings
| | |
| --- | --- |
| | Amazing |
| | Well good |
| | Fun |
| | Meh |
| | Rubbish |
| | | |
| --- | --- | --- |
| Creation | | |
Written by Ivan Radford
Friday, 25 September 2009 16:27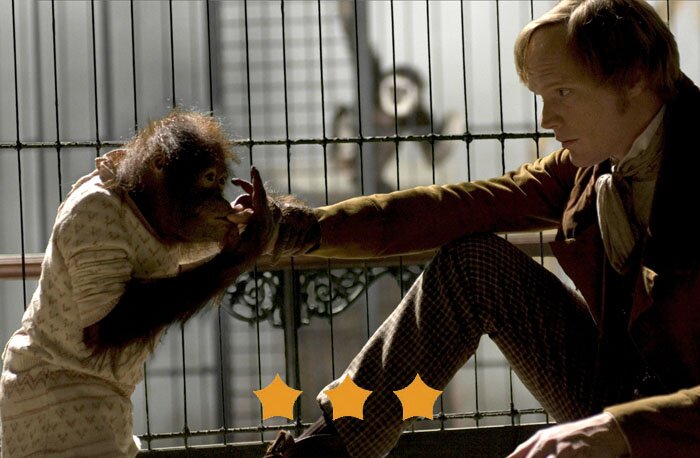 Director: Jon Amiel
Cast: Paul Bettany, Jennifer Connelly, Toby Jones, Benedict Cumberbatch, Martha West
Certificate: PG
Trailer
Beards. Monkeys. Evolution. This is what Biology's all about. So when looking for someone to play Charles Darwin, father of ten (eleven including modern thinking), Paul Bettany is the natural selection for the role. Shedding his scalp and wrestling with guilt, he's evolved into a fine actor. He can generate chemistry with anything, from Orang-utans to dead children. The one person he doesn't share sparks with is his wife, Emma (Connelly). She's the religious one.

Torn apart by their departed daughter, Annie (West), Mr and Mrs Darwin's marriage is a fossil. Barely talking for ten years, the couple are split by Charles' ongoing creation: On the Origin of Species, his 1859 theory that would defy God's existence. Capable of shaking society and rebuking his wife's religion, Charles is actually scared of what he wants to write. Tortured by his dilemma, and spurred on by fellow scientists (Jones and Cumberbatch), he is haunted by his daughter's memory and the illness that killed her – what of survival of the fittest? This is no sexed-up biopic or period romp. This is introverted, intelligent stuf

Their family starts off happily enough. In the face of his wife's faith, he raises their kids with his own ideals – she reads bedtime stories from the Bible, he tells them of un-evolved savages and sentient simians. Following in her father's footsteps, 10 year old Annie is amazed by the world around her. She sees the food chain without fear, and questions creation at church. We could do without her ghost hanging around, but her bold curiosity and sunny smile are instantly engaging – it's easy to see why she's Darwin's favourite.

Alongside Martha West, Connelly's wife is equally impressive; despite complaints of no connection between the real-life couple, she is the perfect foil for Bettany's bereaved boffin. From tense silence to tender reunion, their relationship is always convincing, carrying the film's contrived theme with conviction. A decent bunch of supporting Brits adds to the believable context of Christian England, and the controversy Charles is about to cause.

Behind the camera, Jon Amiel's subtle visuals range from classic costume drama to more adventurous CGI – we see a bird decompose in true David Attenborough style. It doesn't always sit with the slow-burn screenplay (Creation almost feels like it lasts 7 days), but the opening credits are quite breathtaking. At its worst, it meanders along on four legs, but it gradually grows into a creature of elegance and restraint. It will divide critics, especially in America, but if Jesus saves, Creation definitely scores on the rebound.

VERDICT

Intellectual and surprisingly deep, Creation is hardly revolutionary, but it's a fine piece of thoughtful film-making.
Your rating
( 2 Votes )
Tags:
benedict cumberbatch
biopic
charles darwin
creation
distributor
evolution
jennifer connelly
jon amiel
monkey
review
toby jones