Star Ratings
| | |
| --- | --- |
| | Amazing |
| | Well good |
| | Fun |
| | Meh |
| | Rubbish |
| | | |
| --- | --- | --- |
| Film review: About TIme | | |
Written by Richard Curtis
Wednesday, 04 September 2013 06:39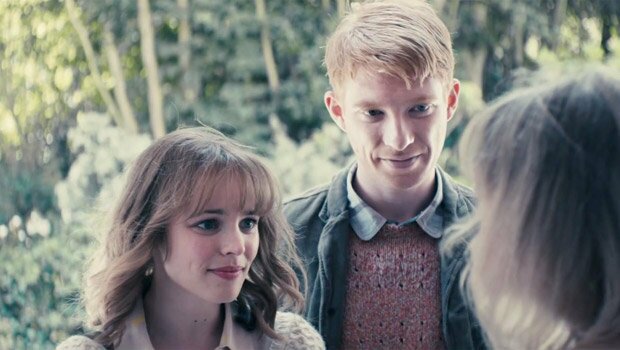 (To be read aloud while looking at this picture and playing sentimental music in the background.)
Ever since I was a boy, I always wondered about voice-overs. Good voice-overs, bad voice-overs, funny voice-overs, voice-unders. Cheesy as it may seem, I couldn't help but be fond of them. Something about their voice-overishness just seemed so terribly British, like playing cricket with my Great Uncle David at one of our family's estates in Cornwall, or drinking tea with my Aunt Mary while she talked about her geraniums.
It was only as I grew older that I began to think about voice-overs in a different way. Of course, that's when I met Susan Smileyface. She was called Susan. She had a smiley face. As the years went by, we started to think about making our own voice-overs. Voice-overs we could tell our children - because, of course, we had to have children. Three children, in fact. One of each.
We raised them just like any other rich couple, going for walks on the beach and only speaking to white people. But we never forgot the voice-overs. They were an essential part of what made us, well, us, I suppose.Susan. Me. The boys. The girls. We would do voice-overs while on the train, much to annoyance of everyone sitting nearby. We would have voice-overs for breakfast. I would drink coffee, stirring it faintly like an everyday but profound simile. Susan would smile with her face.
Voices were one thing; overs were another, as my Great Uncle David would say, but even he couldn't fail to be moved by those carefully chosen words, voiced over machine-tooled images.
Soon, I started to include voice-overs with everything. Long voice-overs. Short voice-overs. Voice-overs about voice-overs. Even if it wasn't needed, even when writing a science-fiction film about time travel, I was there, putting voices over other things.
Why not? I thought to myself. They could be funny and charming if read aloud by the right person. Hugh Grant. Brendan Gleeson. Someone like that. They offered a framework for a story that I could relate to, no matter how full of holes the rest of it was. They provided a sweet, feel-good pay-off, one that always contained a knowing reference to something mentioned near the beginning. Well, that's what I told Aunt Mary, anyway. And her bloody geraniums.
It was only years later, as I reached a sentimental conclusion to my voice-over, that I accepted the truth: others take it or leave it, but for me, it was always going to be about voice-overs. In my world, they actually were all around.
And that, I figured, would probably make a great voice-over.