Star Ratings
| | |
| --- | --- |
| | Amazing |
| | Well good |
| | Fun |
| | Meh |
| | Rubbish |
| | | |
| --- | --- | --- |
| Film review: Zero Dark Thirty | | |
Written by Ivan Radford
Monday, 28 January 2013 07:40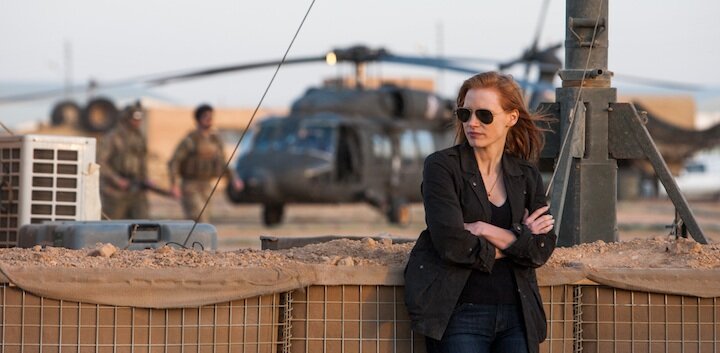 Director: Kathryn Bigelow
Cast: Jessica Chastain, Jason Clarke, Jennifer Ehle, Mark Strong
Certificate: 15
Trailer
"Can you pass me that bucket?" Dan (Clarke) asks Maya (Chastain). She pauses before handing it to him, filled up with water. Dan then empties it over a man's head until he stops screaming.
This is standard procedure in the hunt for Osama Bin Laden.
Zero Dark Thirty tracks the CIA's investigation into UBL across the decade from 9/11 right up to his assassination – events that we know very well. What Kathryn Bigelow's immersive reconstruction manages to do is make you forget that the last 10 years happened, then pieces them back together bit by painstaking bit. It's a phenomenal achievement, one that grips like Velcro trainers and shocks with unexpected attacks while putting a key chapter in American history permanently on the record.
What really impresses is Bigelow and screenwriter Mark Boal's ability to pare everything down to one character's journey. The CIA staff roster may include Mark DuPlass, Kyle Chandler, Mark Strong and John Barrowman (a sort of The Avengers of TV stars versus al-Qaeda) but like The Hurt Locker, we follow everything through Maya's perspective.
Dogged, tired, thrilled and jaded, Jessica Chastain's performance is riveting. Her private life remains top secret (even with Jennifer Ehle's enthusiastic colleague, there's no soapy stuff here). She just follows CIA procedure methodically – torturing until it's not allowed, filtering through paperwork and double-checking leads. It may not have the dramatic ups and downs of Homeland, but the film's patience and tension smack of truth.
That realism explodes into handheld excitement for the final 30 minutes, an electrifying slice of action that takes place in pitch-black near-silence. Even here, Bigelow doesn't let you think ahead; when the decisive gunshot occurs, it's not until afterwards that anyone realises.
But while the all-male assault is the payoff for the torturous legwork that came before, Bigelow's boldest move is not to celebrate or judge. Instead, she returns to her victorious heroine. Ever controlled, Maya's reaction is what gives the events a moral ambiguity that questions not just her complicity but the entire approach to the war on terror.
After years of agents and politicians passing the blame, Zero Dark Thirty hands the bucket directly to us and coolly asks: where does it go now?