Star Ratings
| | |
| --- | --- |
| | Amazing |
| | Well good |
| | Fun |
| | Meh |
| | Rubbish |
| | | |
| --- | --- | --- |
| Some short FrightFest reviews: Sinister, The Thompsons, Sleep Tight, The Inside | | |
Written by Ivan Radford
Monday, 27 August 2012 15:16
So yesterday I braved FrightFest for the first time in my life. Living in the comfy blood-splattered darkness of Empire Leicester Square, it was in turns brilliant, hilarious, terrifying, rubbish, annoying, tiring and rapey. But mostly rapey.
A few short reviews of yesterday's line-up:
The Thompsons

Having never spent time with The Hamiltons – Neil, Christine or otherwise – I wasn't sure what to expect from The Butcher Brothers' (Mitchell Altieri and Phil Flores) vampire sequel. What I got was an entertaining bit of toothy fun, owing as much to Tarantino as traditional neck biters.
After a high-profile massacre in the US, the family (Mature Spice, Sexy Spice, Violent Spice, Emo Spice and Baby Spice) hide in the UK, hoping for help to stop Baby Spice (aka 10 year old Leonard) from dying. They find The Stuarts, a remote, village-bound clan with their own supernatural agenda – and, apparently, their own language, a rare English dialect called Bollocks Written By An American (last witnessed in Woody Allen's Match Point).
The producer revealed in a Q&A afterwards that they didn't originally plan to film it in England. Unfortunately, when they did turn Team GB, they didn't update the script. The result is a fun, sassy visual style – a speed-up here, a blood splash there – with QT-style banter between the American ensemble… and awkward, stilted dialogue from their UK friends. The Brits' acting is a tad ropey, too, from Token Angry Man with a Walking Stick to John Carter's Daniel O'Meara, a villain who only comes alive when he gets his gnashers out. Still, at least there's a independent female character in there; Elizabeth Henstridge's Riley, one of the few at this year's FrightFest who isn't raped/tortured/abused/otherwise subjected to demeaning stereotypes.
Despite having never spent time with The Hamiltons before, they turned out to be a surprisingly charming bunch. Good characters; shame about the dialogue.
The Inside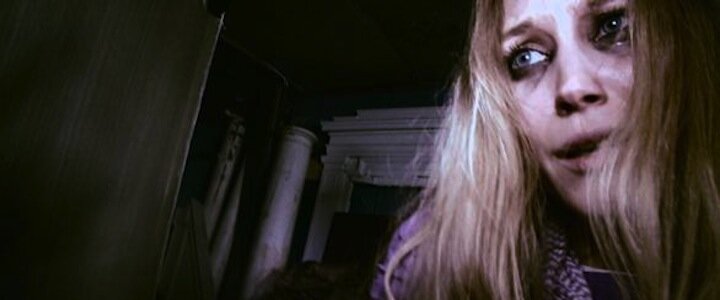 Rape. Rapey rape rape. That's the unofficial theme of FrightFest the 13th. That and found footage. Sometimes, the two come together, Powers Rangers-style, to make the Megazord of rapey handheld horrors.
And so we have The Inside, a directorial effort from Eoin Macken, aka Sir Gawaine. You remember him. The nice, sexy knight off BBC's Merlin.
Gawaine's quest kicks off with a man (played, naturally, by Gawaine himself) picking up a camcorder in a pawn shop. On it, he finds footage of some girls who go out to an abandoned Dublin nightclub for a friend's birthday. I would give them names, but they don't matter.
Once inside the warehouse-like shack, they start drinking. The birthday girl's boyfriend slips out to quietly slip one in her best friend – a scene that has no relevance to the rest of the plot – and then they are all raped by homeless people.
Forcing the teens to hold the camera in turn, the drunk men spin the bottle before dropping their trousers, a horrific sequence that goes on for about 10 minutes.
Even worse: that's not the main part of the film.
After the grim round-table assault (which almost made me break my rule of never walking out of a film), things get freaky in an altogether different way. The camera blacks out, people scream, things flash different colours and a demon (read: naked man) turns up. The remainder of the footage is a Blair Witch retread, with the girls running through an underground crypt using night vision to avoid having their eyes sucked out by the netherworld.
Now, it's quite a simple rule. If you want to make a film about sexual abuse, make a film about sexual abuse (or, you know, just don't). If you want to make a supernatural slasher, do that. Don't do one and then turn it into the other with no link between the two – there are far better ways to get an audience to sympathise with your main characters than "they get raped by homeless people".
A lack of structure? Definitely. It's a problem made even more apparent by The Inside's clueless final act, which returns to third-person to follow Sir Gawaine (him again) as he investigates what he's just seen. It's nice to see a framing device that actually explains where footage has been found, but Macken uses that as an excuse to remake his film in a completely different style and starring him – a move that adds nothing to the movie, except for 20 minutes of dull runtime.
There's some inherent tension in those endless subterranean corridors, perhaps, but the true horror of The Inside is its lack of any quality or coherency. The only thing more disturbing? The two men sitting behind me who laughed as the girls were facedown on the floor being subjected to an extremely dubious display of shaky cam shock tactics. Not very chivalrous, Sir Gawaine.
Sleep Tight

A man wakes up in bed next to a woman. He brushes his teeth with a purple toothbrush. He leaves the flat, closing the door quietly behind him. He goes downstairs. He changes into his uniform and starts his shift on the apartment block's front desk. Three hours later, the woman descends in the lift.
"Good day, Miss Clara. How did you sleep?" asks the concierge.
Freaked out yet? Cesar (the excellent Luis Tosar) is only just getting started. Incapable of being happy, he latches onto the unsuspecting Clara, determined to bring her down to his level. He sneaks into her room while she's sleeping (the literal translation of the title Mientras Duermes), performing all kinds of nasty nocturnal deeds. Then smiles all the brighter the next morning.
He's not a nice man. But REC director Jaume Balagueró smiles along with him. Clara sleeps on her mattress, unaware of what's under the bed. Jaume pans down to the floor. The camera stays there, forcing us to share our sorry anti-hero's warped perspective.
Most have compared this unsettling, darkly comic slice of tension to Hitchcock. It's perhaps closer to Polanski, but also recalls Pedro Almodóvar's Talk to Her, itself a creepy tale of unconscious obsessions. From its witty choice of music to frantic sequences of hide and seek, Sleep Tight deftly walks its awkward line of suspense, admiring Cesar's ability to avoid detection then shocking us with the extent of his sick practical jokes.
It could arguably have ended 20 minutes earlier, missing out one explicit demonstration, but extra time in Cesar's company is nothing to complain about. In Balagueró and Tosar's hands, he's an engrossing, spine-chilling protagonist – and easily the creepiest on-screen janitor since Scrubs.
Un Jour Sang (Steven Pravong – 14 minutes)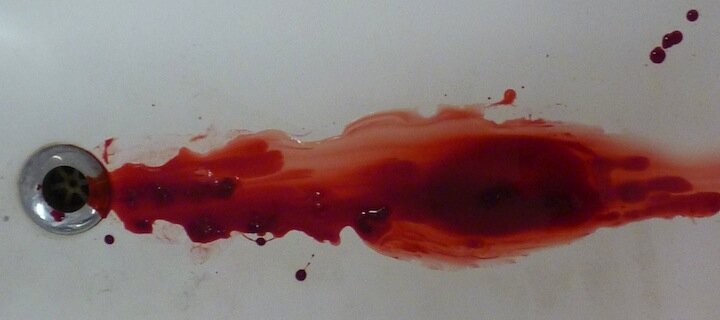 This French vignette, showing as part of the shorts package, is one of the rare rapey entries that treats its subject well. We see a man and a woman getting dressed. He shaves. She selects underwear. He brushes his teeth. She puts on a blouse.
All mundane, everyday activities to watch. But that's not what we're hearing. Steven Pravong overlays his shots with speech: a nasty male interrogation of a female victim. As the noise of this torture escalates, so does the unease.
It's a smart and, acoustically, graphic play upon the juxtaposition of the innocuous and the unpleasant; a neat trick undone by the final few minutes, in which Pravong makes the mistake of showing us the aftermath of the abuse. The only sound then was me sighing in disappointment.
Sinister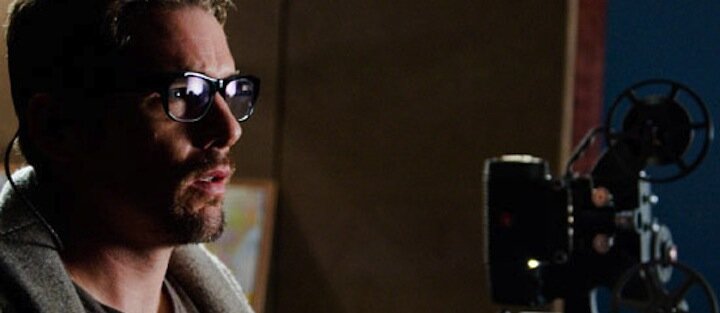 A pleasingly mainstream part of FrightFest's line-up was Sinister, a classic American horror movie. Haunted house, check. Freaky children, check. No rape here.
Ellison (Ethan Hawke) is a true crime writer, chasing after money and fame after his only major success 10 years ago. Moving his family into the house of a missing child, he starts to investigate the nasty murders of the people who used to live there. Hung from a tree in the backyard, their bodies were found the day after – with no sign of wee daughter Stephanie.
Within hours, he finds some old Super 8 film in the attic (don't worry: not that kind of found footage). Needless to say, bad things start happening.
There are obvious problems with Sinister. Why the hell would anyone investigating a gruesome killing move their family into the crime scene? Why wouldn't they leave straight away when bad things happen? Why wouldn't he call the cops – or at least tell his wife?
Former film blogger C. Robert Cargill solves some of the issues, helped by director Scott Derrickson. Together, they deliver jumps that, although clichéd, are effective, jolting scares.
As the terrified lead, Hawke carries the fear brilliantly with that mopey charisma of his. It's refreshing to have an unreliable narrator who's male rather than female, especially one whose freaked out face is so believable.
The rest of family's equally good, although the show is stolen by the local cop, who gets all the best (and funniest) lines. The music may be a bit strong and the supernatural elements familiar, but Sinister's simple setup – a man watching scary movies – is enjoyably meta and all the more effective for it. Plus it gets bonus points for having a character called Deputy So & So.
Berberian Sound Studio 
After going in one ear and never leaving, Berberian Sound Studio is still rattling around inside my brain with a wonderful echo. It's out in cinemas this Friday: I'll give you a proper reaction by then. (Spoiler: It's very good.)
Tags:
eoin macken
ethan hawke
found footage
frightfest
handheld
jaume balagueró
luis tosar
mitchell altieri
phil flores
rape