Star Ratings
| | |
| --- | --- |
| | Amazing |
| | Well good |
| | Fun |
| | Meh |
| | Rubbish |
| | | |
| --- | --- | --- |
| Frightfest Review: Chained | | |
Written by Ivan Radford
Sunday, 26 August 2012 07:59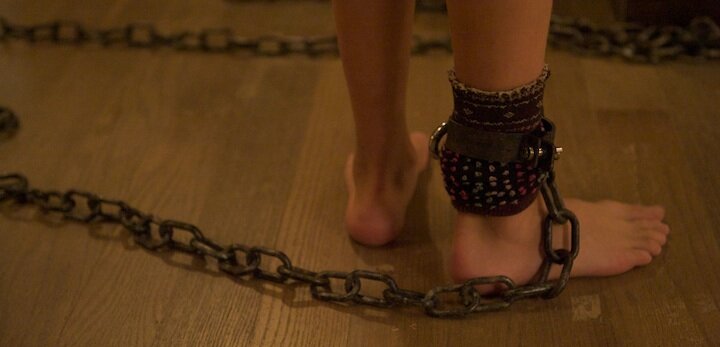 Director: Jennifer Lynch
Cast: Vincent D'Onofrio
Certificate: TBC
There must be something in David Lynch's sperm. The "Make Audiences Feel Uncomfortable" gene. Because his daughter Jennifer carries on that tradition in fine style with Chained, a nasty piece about a young boy adopted by a serial killer after he kidnaps his mum, rapes her and buries her under the porch.
Rabbit, as he's called by his captor, gets the usual upbringing from his foster father. He does the chores. He cooks the breakfast. He cleans up the blood. He buries the bodies. He opens the door to let the next victim in. And he does it all while attached to the wall by (you guessed it) a very long chain.  
"I can teach you things," exhales the fat, psychotic cab driver. "I can show you things people don't know... about how the body works."  
It's a weird father-son relationship Lynch sets up - a darkly fascinating combination of the desire for approval, the need for free will and the barbaric and brutal slaying of young females. Vincent D'Onofrio does a decent enough job as psychopath senior, but after a slow, unnerving first act, things take an uneasy turn, as the director tries to do something her father perhaps wouldn't: explain things.
A silly twist, conveyed through ineffective grainy flashback, undoes the dramatic tension built up at the start, forcing the cocktail of women-torturing horribleness into a cliched, join-the-dots formula. 
The result is a slightly unsatisfying end to an unpleasant film. The question is: does that make it a success? I say yes.

Tags:
chained
frightfest
jennifer lynch