Star Ratings
| | |
| --- | --- |
| | Amazing |
| | Well good |
| | Fun |
| | Meh |
| | Rubbish |
| | | |
| --- | --- | --- |
| Film review: Take This Waltz | | |
Written by Ivan Radford
Thursday, 16 August 2012 14:26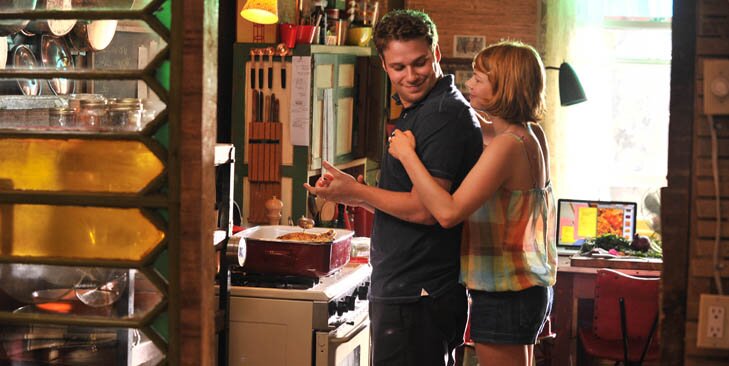 Director: Sarah Polley
Cast: Michelle Williams, Seth Rogen, Luke Kirby, Sarah Silverman
Certificate: 15
Full disclosure: any film that starts with Michelle Williams baking is automatically good in my book. No one can make a cake, slap it in the oven and stand waiting by a warm stove, full of ennui, like Miss Williams. Oh yes, for me, Michelle's muffins are the best. They're even yummier than Kristen Wiig's cupcakes.
But despite this nom-tastic opening, Take This Waltz stumbles as the music continues. The mixture ends up lumpy. The raw dough can't dance, if you want to mix metaphors. And that full disclosure I was talking about? I meant it in more ways than one.
Margot (Williams) is a happily married woman. Her husband, Lou (Rogen), is lovely, funny and he can cook chicken really well. There's nothing missing in her life. That is, until she meets Daniel (Kirby). Is it possible for her to fall in love with both men? Should she chase the new and exciting fling or stay with her poultry-roasting hubbie?
"I'm scared of being between things," Margot explains to Daniel when they first meet on an airplane. It turns out she has a phobia of transfers between flights. He nods and looks her in the eye. "Sounds to me like you're afraid of being afraid."
That bell going off in your head? That's the Obvious Dialogue Alarm and it's the main problem with Sarah Polley's drama. Every now and then, one of the main characters drops a bombshell of a line, which clunks all the way out of the cinema and down the street. "We're not so different, you and I!" yells Sarah Silverman's recovering alcoholic at her confused sister, just in case we haven't already worked that one out.
It's a massive shame because the rest of the film is stonkingly good. Rogen resists the temptation to be a flawed, ignorant husband, using his understated charm to make Lou a real catch. Kirby, meanwhile, is mysterious and sexy enough to be an appealing alternative. When they're with Margot, both are the ideal man. Both. That's impressive stuff.
As for Williams, she delivers at least the fourth Oscar-worthy performance of her career. She's selfish, stupid, sexy, bewildered, sad and happy – often all at the same time, while her large doe eyes and childlike costume design give Margot a vulnerability that's impossible to dislike.
One hilarious moment in the local pool, which sees her exercising like a tit as Daniel munches popcorn in the stands, nails that whirl of attraction between strangers – a moment beautifully echoed later by a silent spot of night-swimming, the two would-be lovers circling each other but afraid to touch.
Who does Margot choose and why? It doesn't really matter. Polley is more interested in exploring the messy smudge of emotion than the specifics. Which is why it's so disappointing to see her drag out the story for an unnecessary half hour; there are five points in the final act where the film could end without losing any impact. All of them are ignored.
Instead, Polley introduces something else to the mix. Which brings us full circle back to that disclosure - literally. While Take This Waltz has a wonderfully mature and honest attitude towards nudity – both young and old – that's all forgotten at one point for a bravura five-minute sequence, which I can only describe as a rotating sex montage. It's technically impressive, but the excessive display jars with the understated approach to undress shown elsewhere. Compared to a similarly poignant scene at a theme park, also accompanied by a superbly chosen pop song, it feels unnecessary. Much like that dialogue from earlier. And, for that matter, Sarah Silverman's character.
Is the rambling script meant to resemble real life? Does this closing act chaos make Williams' love life more believable? If I ever have a rotating sex montage of my own, I'll let you know.
VERDICT
Moving and messily honest, Take This Waltz is a proper rom-com, packed full of laughter, tears and baking - but sadly, a little too full. Now pass me a muffin.

Tags:
luke kirby
sarah silverman
seth rogen
take this waltz