Star Ratings
| | |
| --- | --- |
| | Amazing |
| | Well good |
| | Fun |
| | Meh |
| | Rubbish |
| | | |
| --- | --- | --- |
| Film review: Rock of Ages | | |
Written by Ivan Radford
Tuesday, 12 June 2012 12:23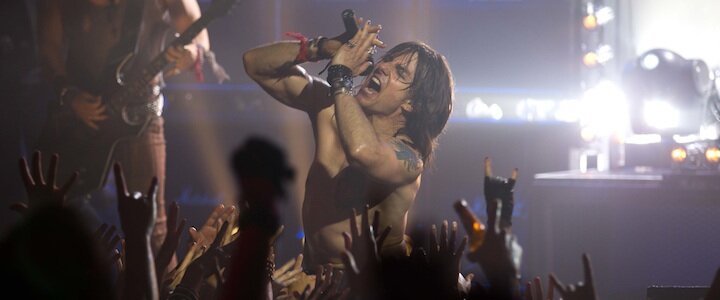 Cast: Diego Boneta, Julianne Hough, Tom Cruise, Russell Brand, Alec Baldwin, Catherine Zeta-Jones, Malin Akerman
Certificate: 12A
Trailer
Sherrie's (Hough) a small town girl
Livin' in a lonely world
She took the midnight bus goin' to L.A.

Met a city boy (Boley)
Discovered that they both enjoy
Miming to 80s songs almost anywhere

On buses or in smoky rooms
Looking for any excuse
Like Mamma Mia with rock tunes
- it goes on and on and on and on…

People waiting
Up and down the cinema
For shadows of a plot they can like.
Adam Shankman
Has lost his Hairspray golden touch
Can't tell what's ironic or trite.
A cash-grab of a musical
More Hollywood than rebel thrills
Warner Bros spend anything to milk one more dime.
Some parts are wins, others lose
Thank God that there's singing Tom Cruise
His topless douche does amuse
With his dragon dong and dong and dong.

Alec Baldwin
And sexy Malin Akerman
Steal the show with Russell Brand's crap Brum.
The scenes, lights, costumes
Look good, but it's all too clean
Less edgy glam rock and more glee.
So stop believin'
You'll only be feeling
Delight for half of the night.
No point deceiving
The good bits are all fleeting
It's only fun when Tom's in sight.

(Repeat to fade)
Tags:
adam shankman
alec baldwin
catherine zeta-jones
diego boneta
glee
hairspray
julianne hough
malin akerman
rock of ages
russell brand
singalongareview