Star Ratings
| | |
| --- | --- |
| | Amazing |
| | Well good |
| | Fun |
| | Meh |
| | Rubbish |
| | | |
| --- | --- | --- |
| Film review: Salmon Fishing in the Yemen | | |
Written by Ivan Radford
Wednesday, 18 April 2012 11:40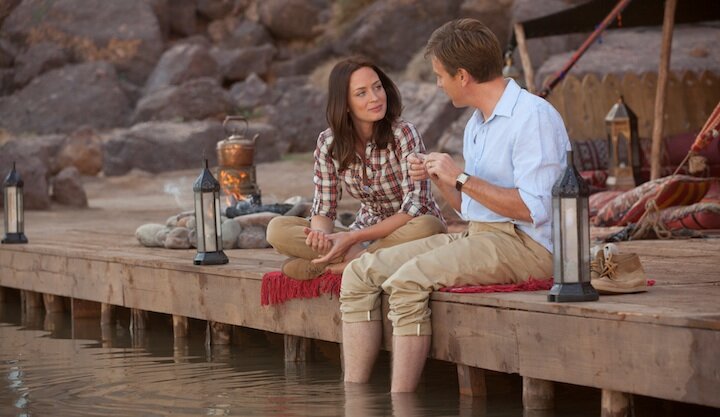 Director: Lasse Hallström
Cast: Ewan McGregor, Emily Blunt, Amr Waked
Certificate: 12A
Trailer
 The gentle slapping of the still water against your legs. The breeze on your face. The whirr of the line as you cast off. The promise of gilled goodness underneath the surface, just waiting to be caught. Yes, fishing in The Legend of Zelda was always a lot of fun.  
Billionaire Sheikh Muhammed (Waked) is determined to being that same buzz of excitement to the Yemen. For him, fishing is an act of faith, a trust in the water's ability to provide. He played way too much Zelda when he was a kid.
Dr. Alfred Jones (McGregor), on the other hand, has probably never seen a Zelda game in his life. He's too busy talking about fish, wearing cardigans and calling people by their surname.  
But along comes Ms. Harriet Chetwode-Talbot (Blunt), a young woman representing the Sheikh, whose upbeat charm and gorgeous looks threaten to change his surname-calling ways forever. She even gets him to stop wearing a cardigan.
Harriet is keen to get Fred on board to carry out the rich madman's bonkers scheme. Even more keen are Her Majesty's government, who need some happy news to come out of the Middle East to counteract all the bad stuff in Afghanistan. And so Fred flies out to Yemen to hear the Sheikh's plans for the future. (They involve fish.)
 "Fishermen don't care if I'm brown or white or religious. They just care about the fish," intones Amr Waked's Sheikh, all spiritual metaphors about salmon swimming upstream. Lasse Hallström laps it up, cutting to slow-motion shots of Ewan McGregor pushing through crowds of people in the street. It's not exactly a subtle film.
But there's still a lot of fun to be had from Simon Beaufoy's script. Playing on Paul Torday's epistolary novel, the Slumdog screenwriter chucks in some instant messaging with the folks back home; while Fred emails his distant wife, Harriet hangs on an answer phone waiting for news of her soldier boyfriend. All the while, Fred's frustrated boss Bernard (Game of Thrones' Conleth Hill) fields a barrage of calls from the PM's PR team, trying to piece all the bits together into a feel-good story.
In someone else's hands, this could have been a cracking political satire (watch out for Malcolm from Spooks as a clueless Foreign Secretary). But McGregor and Blunt make for a cute couple, Kristin Scott Thomas' Malcolm-Tucker-with-breasts distracts from the unnecessary subplots, and everyone manages to keep their heads above water while Lasse Hallström floods the place in whimsy. You just wonder what the poor salmon make of it all.
VERDICT
As far as soft-core sentimental guff goes, it gushes well enough. Still, it's not as good as salmon fishing in the River Hyrule – although it has given rise to this amazing discussion on IMDb.

Tags:
amr waked
ewan mcgregor
kristin scott thomas
lasse hallstrom
malcolm tucker
paul torday
salmon fishing in the yemen