Star Ratings
| | |
| --- | --- |
| | Amazing |
| | Well good |
| | Fun |
| | Meh |
| | Rubbish |
| | | |
| --- | --- | --- |
| Film Review: Cleanskin | | |
Written by Ivan Radford
Wednesday, 07 March 2012 08:24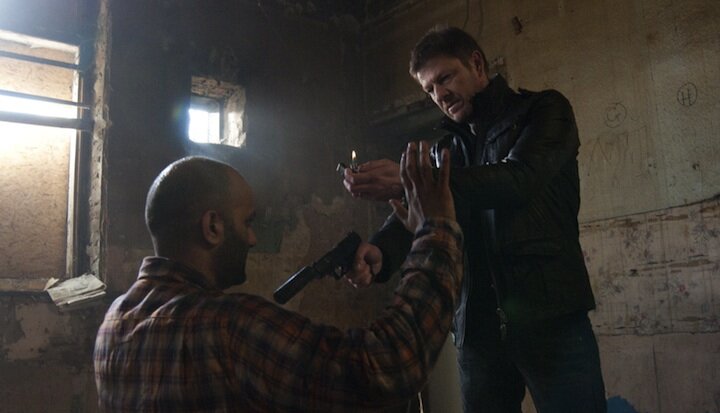 Director Hadi Hajaig
Cast: Sean Bean, Abhin Galeya, Charlotte Rampling
Certificate: 15
Trailer
"I fought in Afghanistan to stop the same thing happening here. But it never stops. And neither will I." A gruff Sean Bean vents his inner anger in a dingy bar. A former soldier turned secret agent, he's tasked with finding a cleanskin - a home-grown terrorist with no record in the intelligence system. But this isn't 007 we're talking about. It's not even Spooks. Hadi Hajaig's thriller has a pleasantly grubby sheen that the director knows how to exploit, not least by setting everything in London.
The capital's rarely looked so vibrant and grimy at the same time - and Hajaig wastes no time in blowing up its hotels and splattering blood in the street. But the B-movie spills take a back seat for most of 108 minutes, with Cleanskin instead choosing to focus on Ash (Galeya). A young, conflicted Muslim, he's a complex character who easily earns our sympathy as the titular terrorist destined to collide with Bean's angry fists.
But in flashing back to Ash's past (messy uni relationships, ugly botched missions), Hajaig loses the thread a tiny bit. The ambitious director gets bonus points for ducking terrorist stereotypes in manipulative mentor Nabil (a disarmingly excellent Peter Polycarpou) and for making the low-key action hit hard, but the lines become slightly too blurred between the good and bad guy. That is, of course, the point, but it's hard to root against Richard Sharpe. Especially when he's wielding a flick knife. 
With his grizzled beard, messy hair and Sheffield accent, Bean's every bit the low-budget anti-spy. He shoots to kill. He beats up women and doesn't sleep with them. He'd sooner burn people alive than ask questions. Let off the leash by a shady Charlotte Rampling, he's a satisfyingly nasty piece of work. Which is why it's such a shame that Cleanskin doesn't stick with him throughout. The film tries to make up for it in the final act, but the sudden twists and turns are closer to confused than surprising. There's some fun to be had in knowing that (as is tradition) Sean Bean could die at any moment, but in the suicide bombing stakes, it's no Four Lions.
VERDICT
Tense and engaging, Cleanskin is a provocative thriller that delights in dinginess but ultimately ends up a little too messy.

What did you think of the film?
( 12 Votes )
Tags:
abhin galeya
charlotte rampling
cleanskin
hadje hajaig
michelle ryan
sean bean