Star Ratings
| | |
| --- | --- |
| | Amazing |
| | Well good |
| | Fun |
| | Meh |
| | Rubbish |
| | | |
| --- | --- | --- |
| Film Review: The Best Exotic Marigold Hotel | | |
Written by Ivan Radford
Wednesday, 22 February 2012 17:28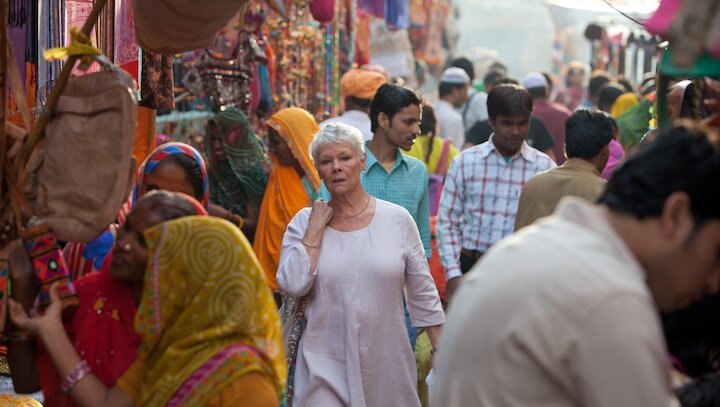 Director: John Madden
Cast: Judi Dench, Maggie Smith, Bill Nighy, Tom Wilkinson, Celia Imrie, Dev Patel
Certificate: 12A
Trailer
Out of all the words in John Madden's quaintly-titled movie, one is true. It's about a hotel. The rest is just fluff.
A feel-good comedy-drama about people in their twilight years journeying to India, it's the kind of ensemble piece where you expect to see Judi Dench swapping life lessons with Maggie Smith. Or Bill Nighy. Depressingly, that's exactly what happens.
Evelyn (Dench) is a widower looking to find her own identity again. Graham (Wilkinson) is a lawyer with a past he wants to relive. Douglas (Nighy) is sick of being subdued by his uncaring wife, Jean (Wilton) – and Maggie Smith is a racist.
This motliest of motley crews jumps on a plane to Jaipur, attracted by the promise of a luxury getaway for the more mature in years. There, they are duped out of their money by a well-meaning Dev Patel, who wants to transform a run-down building into an pensioner's paradise. His plans are, of course, frowned upon by his meddling mum, who also dislikes his thoroughly modern girlfriend (don't worry – she's not Freida Pinto).
"Welcome to The Best Exotic Marigold Hotel!" Dev Patel beams, all lazy characterisation and big smiles. The rest of the film is at least consistent.
Our OAPs soon set about fixing the taps themselves, falling in love with the landscape (and each other) and commenting about how exotic it all is. "Look at the colours! All life is here!" says Wilkinson to Wilton's token sourpuss. Then Ronald Pickup pops a Viagra, Dench fights with a computer, Celia Imrie talks about sex, and Maggie Smith rolls into the room pretending to be racist.
"If I can't pronounce it, I don't eat it!" she warbles, quite racistly. It's endearingly inappropriate when you own grandma does it – great news for Maggie's grandchildren, but bad news for everyone else.
It's sad to see the superb cast wasted on such a cliched script. If Deborah Moggach's novel These Foolish Things is an honest and moving depiction of retiree existence, John Madden's sugar-coated film is the fluff that you find down the back of the sofa while reading it. Yes, senior cinemagoers deserve a story that caters to their interest and gives their problems a voice. But this isn't it.
The cinematography is pretty to watch and Bill Nighy and Tom Wilkinson are as likeable as always, but after the fifth life-affirming monologue, you start to wish they'd all gone to stay in a very different type of resort. Love, geriatrically? No thanks.
VERDICT
At 124 wearying minutes, you can check into The Best Exotic Marigold Hotel any time you like, but it feels like you'll never leave.

What did you think of the film?
( 2 Votes )
Tags:
bill nighy
celia imrie
deborah moggach
dev patel
john madden
maggie smith
the best exotic marigold hotel
tom wilkinson