Star Ratings
| | |
| --- | --- |
| | Amazing |
| | Well good |
| | Fun |
| | Meh |
| | Rubbish |
| | | |
| --- | --- | --- |
| Film Review: Extremely Loud and Incredibly Close | | |
Written by Ivan Radford
Monday, 13 February 2012 12:01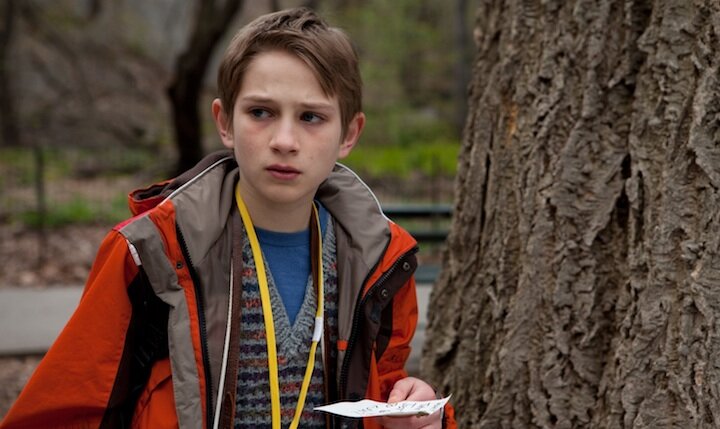 Director: Stephen Daldry
Cast: Tom Hanks, Sandra Bullock, Max von Sydow, Thomas Horn
Certificate: 12A
Trailer
Tom Hanks is dead. That's the starting point for Stephen Daldry's adaptation of Jonathan Safran Foer's novel. Forrest Gump. Larry Crowne. The driver of The Polar Express. He's gone. And his son, Oskar (Horn), is understandably very upset about it. As is the rest of the America.
But what if Tom Hanks left Oskar a message? What if Tom Hanks, in a contrived attempt to give his son an emotional journey of self-discovery, actually left a trail of clues leading to a mysterious key?
What if finding the lock for that key gives Oskar the catharsis he needs to understand what happened to his dad? What if he meets a load of strangers along the way who teach him about life, the universe and everything?
What if all of this is one big metaphor for America trying to recover from the events of 9/11?
Make no mistake. This heavy-handed movie perches right on the edge of Oscar-bait territory. And it knows it. There's the father/son dynamic of The Descendants, the lost key of Hugo, War Horse's personal perspective of a global tragedy, the excellent Viola Davis in a supporting role to rival The Help – and the incessant voiceover of The Tree of Life.
"I hate moving things," narrates the hyper-aware Oskar. "And things that make loud noises. And bridges. And trains." Then he goes and stands on a bridge next to a loud, moving train.
Compared to the superior, but stylistically similar, storytelling of Mark Haddon's The Curious Incident of the Dog in the Nighttime, Daldy's movie could easily be dismissed as manipulative tripe. And at times, it is. But dammit, it'll get its hooks into you anyway. Why? Because Thomas Horn's performance is almost impossible to resist. Vulnerable and honest, his grief errs just on the right side of schmaltz – unlike Tom Hanks, whose oddball shrugging and dreadful punning makes you glad he only appears in very brief flashbacks.
The emotional kick Daldry's direction needs ultimately comes not from the bitty structure or the overdone music, but from Oskar's interaction with the adults around him. Max von Sydow's mute next-door neighbour – the sidekick on Oskar's cross-town quest – is grouchy enough to counter the sentiment of Safran Foer's story. He practically steals the show with just a notepad and two extremely bushy eyebrows. Sandra Bullock's mum, meanwhile, blends into the background, leaving Oskar to wander the streets alone before reappearing in the movie's most moving scene.
"Can I take your picture so I can remember you?" Oskar asks Viola Davis' fragile divorcee, after barging unexpectedly into her home. She silently tries to hide her teary face. He snaps away regardless. Daldry's self-important camera may not have the sensitivity to capture America's search for resolution (does any film?), but the people on screen have enough substance to make this plodding tour of life, the universe and everything worthwhile. It's no Best Picture nominee, but you know what? It's a darn sight better than The Blind Side.
VERDICT
Extremely overwrought, but incredibly rewarding in its own, unsubtle way.

Tags:
extremely loud and incredibly close
max von sydow
oscar 2012 reviews
thomas horn
tom hanks