Star Ratings
| | |
| --- | --- |
| | Amazing |
| | Well good |
| | Fun |
| | Meh |
| | Rubbish |
| | | |
| --- | --- | --- |
| Review: Mercenaries | | |
Written by Ivan Radford
Wednesday, 25 January 2012 12:49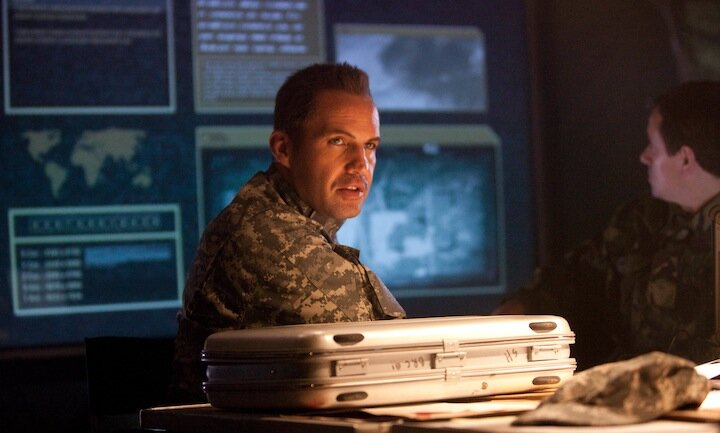 Director: Paris Leonti
Cast: Billy Zane, Robert Fucilla, Geoff Bell, Kirsty Mitchell, Vas Blackwood
Certificate: 15
Trailer
"And Billy Zane." There aren't many words in the English language that can contain the same exciting potential of amazing brilliance - or spectacular crap. This is, after all, William George Zane Jr., the guy who starred in Titanic, Dead Calm, Back to the Future, Back to the Future Part II. And The Phantom. But not even The Zane's latest hairpiece can rescue this low-budget mess.
It begins, almost promisingly, in Serbia. A military coup sees a group of fighters shoot their way into the president's house and kill him. It's quick, it's bloody, it's trashy. And it features a bad guy called Olodan Cracovic – a name that even William George Zane Jr. would be jealous of.
Then along come the main characters and everything goes to pot. There's Andy (Fucilla). He's a mercenary. Then there's Zac (Blackwood). He's a mercenary. And there's also Callum. He's a mercenary. Briefly phoning it in as Colonel Torida, Billy Zane responds to the president's assassination by hiring external troops to do the dirty work of stopping Cracovic. "Mercenaries," comes the gruff reply. In case we hadn't worked that bit out.
The dialogue is woefully clunky – a shame, because the case are clearly up for it and Paris Leonti's premise had a real chance to become a fun, grungey action flick. But in between the obligatory romance with Kirsty Mitchell's aide and a token traitor placed amid the ensemble, things go from The Expendables to The Laughables. Mostly because Vas Blackwood's character spends the whole time laughing.
There's no believable bond between the blokes and you won't care who gets blown to bits, but even then you can't enjoy the shootouts because it looks like someone just filmed a game of paintball. If you want tense action in a forest on a shoestring budget, check out last year's superior A Lonely Place to Die, which knew how to use handheld footage to build tension.
Things get worse come the hugely overplayed ending, which is full of sentimental music and slow-motion shots of trees. If it took itself less seriously, Paris Leonti's war film could be a fairly enjoyable thriller, but there's no denying it belongs in a bargain DVD bin. Even if you do like low-budget action. And the name "Olodan Cracovic". And Billy Zane.
VERDICT
Less The Expendables, more The Office Paintball Trip.

What did you think of the film?
( 1 Vote )
Tags:
geoff bell
kirsty mitchell
mercenaries
paris leonti
robert fucilla
vas blackwood