Star Ratings
| | |
| --- | --- |
| | Amazing |
| | Well good |
| | Fun |
| | Meh |
| | Rubbish |
| | | |
| --- | --- | --- |
| Review: The Descendants | | |
Written by Ivan Radford
Monday, 23 January 2012 08:57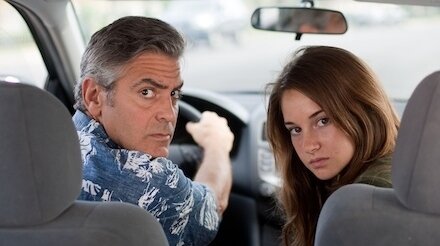 Director: Alexander Payne
Cast: George Clooney, Shailene Woodley, Matthew Lillard, Nick Krause
Certificate: 15
Trailer
"My friends on the mainland think because I live in Hawaii, I live in paradise. Like a permanent vacation, we're all just out here drinking Mai Tais, shaking our hips and catching waves…"
That's how Alexander Payne's latest film – his first in seven years – begins. With a clichéd voiceover that sticks out like a sore thumb covered in neon fairy lights.
Matt King (Clooney) is a father whose wife Elizabeth is in a coma after a jet-ski accident. His kids don't like him much and he's also facing a tough decision about selling off the oodles of Hawaiian land he's inherited. To top it off, it turns out Ellzabeth was cheating on him. All of these things we can work out without his unnecessary opening monologue, which seems to exist just for its closing sentence: "Paradise? Paradise can go fuck itself."
From then on, it's solid stuff. The location is stunning, the pace relaxed, and Clooney's disheveled dad is believable, from his stubble and grubby hair all the way down to his terrible flip-flopped running. His kids are equally good, particularly Shailene Woodley as his older daughter, Alex, who balances grief, hate and alcoholism with an engaging maturity.
Inevitably, the family begins to bond as they hop across islands – accompanied by Alex's semi-boyfriend, Sid (Krause) – to find Elizabeth's lover. Along the way, there are some touching moments of drama; hiding her feelings for the sake of her younger sister, Alex lets rip in the hospital when alone, shouting at her comatose mum with an astonishing burst of anger. Some neat comedy stings pop up too (Sid getting punched in the face), but mostly things just float by in a steady stream of predictable plot-points.
It falls to Clooney to keep things moving. He succeeds, helped by a great turn from a middle-aged Matthew Lillard (Scooby Doo's Shaggy and, more importantly, Stu from Scream) as well as his clueless wife, played by Arrested Development's Judy Greer. On the Clooney-o-meter, The Descendants is no Up in the Air or The American, but George's downbeat presence and the sincere ensemble cast make the heavily-signposted conclusion surprisingly moving. Sitting by his wife's bed staring into mid-air, The Cloonster's face goes all the way from rage to sadness to heart-wrenching loss without saying a word. And then the script makes him talk all over it.
VERDICT
Payne's family drama is likeable enough, but in terms of films set on Hawaii, The Descendants isn't a patch on Lilo and Stitch.
What did you think of the film?
( 4 Votes )
Head this way to read our London Film Festival review of The Descendants. 
Tags:
alexander payne
judy greey
matthew lillard
nick krause
oscar 2012 reviews
shailene woodley
sideways
the descendants