Star Ratings
| | |
| --- | --- |
| | Amazing |
| | Well good |
| | Fun |
| | Meh |
| | Rubbish |
| | | |
| --- | --- | --- |
| Review: Happy Feet 2 | | |
Written by Ivan Radford
Monday, 28 November 2011 13:35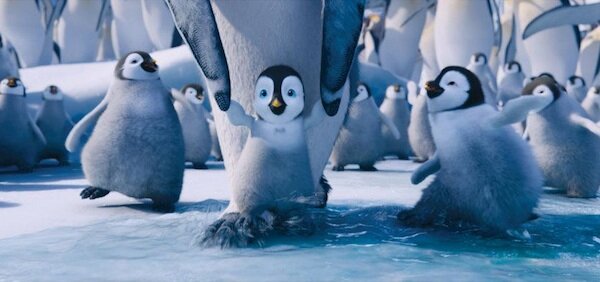 Director: George Miller
Cast: Elijah Wood, Robin Williams, Pink, Matt Damon, Brad Pitt, Hank Azaria, Ava Acres
Certificate: PG
It's hard to believe that a movie about singing penguins could be so unloveable. After weeks of cooing over BBC's Frozen Planet, there's no better time to release this sequel to 2006's Happy Feet (it won an Oscar, remember). But after 20 minutes of singing, tapping and nonsensical storytelling, you soon give up on the adorable little animals and pine for David Attenborough, praying for a leopard seal to come along and kill them all.
Mumble (Wood) is back, tip-tapping his toes across the Antarctic and trying to please his wife, Gloria (Pink). In case he doesn't already have enough to be neurotic about, he's a dad now too. And little Erik (Acres) doesn't do dancing. Or singing. He wants to be different - because that's how kids learn life lessons about believing in themselves.
Running away from the pack, Erik comes across Sven (Azaria). He looks like a puffin. He acts like a puffin. And he talks like a Swedish person. So, of course, when he says he's a penguin, everyone believes him. Even when he starts to fly.
Can Erik learn to fly too? Will anyone expose Sven's true identity?
Rather than answer those questions, Happy Feet 2 goes off to talk about global warming. You see, the Antarctic ice sheet is melting. And as the ground shakes, cracks and falls into the sea, the clan of Emperor penguins end up trapped in a massive hole, unable to get out. Only Erik and Mumble can save the day, helped by the two characters voiced by Robin Williams (Ramon - who has a silly voice, and Lovelace - who has a silly jumper). 
Will the penguins survive? How can they get fish from the sea into the mainland to feed their families? And will social outcast Ramon get off with the hot girl in the pack?
Rather than answer any of these questions, George Miller (director of Mad Max Beyond Thunderdome and Babe: Pig in the City) whisks us underwater to look at some krill. Not just any krill. These are krill voiced by Matt Damon and Brad Pitt. Bantering their way through their comedy subplot, Will and Bill use puns like "one in a krillion" and decide to flee the herd to become predators. "I'm going to chew on something that has a face!" shouts Pitt.
They're almost entertaining - but they don't belong in this film. In fact, if they had their own separate film, which Miller made instead of this drivel, the world would be a better place.
The script runs in three different directions for 100 minutes, none of it adding up to anything fun. The characters are so shallow they make Mr. Popper's Penguins look like a literary masterpiece (at least at it had alliteration in it). The animals and landscapes are amazing works of CGI, but you won't give two bird poops about any of it. You'll spend more time trying to work out if the humans who turn up halfway through are live-action actors or an impressive bit of motion capture. (Whichever it is, they look incredible.)
Of course, looks aren't everything, as Erik soon discovers. Or does he learn that singing is everything? Or that penguins can fly? Or that krill are people too? Or that £87 million is a stupid amount to spend on a sequel about singing penguins? Or that Swedish people shouldn't be trusted?
There is a lesson in here somewhere. It's this: don't see Happy Feet 2. That and the fact that your father will love you no matter how two-dimensional you are.
It's a sad thing to say about cute, fluffy penguins, but when a film is so dull that 600 people were fired from the animation studio just in time for Christmas because no-one went to see it in the US, it's hard to see a bright side. And a shrill, ear-molesting rendition of Puccini's E Lucevan Le Stelle by a squeaky flightless bird isn't going to change that. 
Someone find a leopard seal and end this misery now.
VERDICT
Happy Feet 2? They should call it Unhappy Feet. Or just feet. 

What did you think of the film?
( 2 Votes )
Tags: