Star Ratings
| | |
| --- | --- |
| | Amazing |
| | Well good |
| | Fun |
| | Meh |
| | Rubbish |
| | | |
| --- | --- | --- |
| Review: Twilight: Breaking Dawn - Part 1 | | |
Written by Ivan Radford
Saturday, 19 November 2011 12:35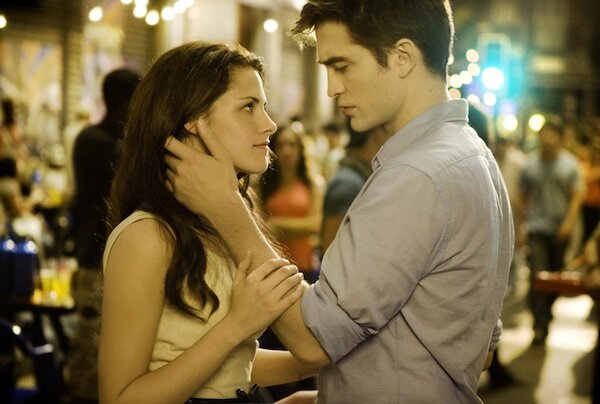 Director: Bill Condon
Cast: Kristen Stewart, Robert Pattinson, Taylor Lautner
Certificate: 12A
Trailer
After David Slade's solid Eclipse, The Twilight Saga begins to climax in Part 1 of Breaking Dawn, Stephenie Meyer's bonkers conclusion to her furry, fanged love triangle. A divisive book even among fans, Bill Condon's adaptation was always bound to draw snide jokes from the blokes in the room - a shame, as Meyer's central premise (a relationship between the living and undead) is a classic trope of the genre and one that, in its best moments, has all the poignancy and tension of Tomas Alfredson's mature Let the Right One In. Filtered through the haze of hormonal teen romance, of course.
Heaving, sighing, pouting, blinking. It's all there Taylor Lautner even rips his shirt off within the first minute. But where Melissa Rosenberg's script for Eclipse added some wry humour and directed the story towards a firm finish, here it feels less structured and more laughable. Just as Bella Swan (Stewart) practises walking on high heels before her marriage to sexy vamp Edward Cullen (Pattinson), Breaking Dawn: Part 1 tries to be serious and repeatedly falls flat on its face.
It was never going to be easy for Breaking Dawn. What started as a tale of abstinence and horror has since been distracted from its heady themes by werewolves and Taylor Lautner taking his top off. Unlike the mopey, aimless New Moon, though, this finale tries to focus on Bella and Edward again. After a honeymoon in Brazil, she gets knocked up by his undead sperm and transforms from a pale, anguished girl into a pale, anguished pregnant girl. Some pleasingly old-school body-horror comes into play, covering everything from cracked ribs and bruised wombs to drinking blood out of styrofoam cups.
But just as things get suitably freaky, Condon leaves The Fly and runs back to the wolves at the door. Because, you see, Jacob (Lautner) and his clan don't like Bedward's baby. So they start patrolling round the house, waiting to strike. Unfortunately, they talk to each other while doing it. Shape-shifting into dodgy CGI, the arguments take the form of dreadful snarling voiceovers that sound like Christian Bale's Batman has had one too many drinks. Then Jacob goes for a terrible first-person run in which Kristen Stewart's face appears over the top of shaky foliage. Wolf-cam? No thanks. Even Season of the Witch was above that.
To be fair, the lupine effects have been consistently pants for three films now, but at least David Slade knew how to direct a decent fight scene. The director of Dreamgirls, though, doesn't know where to look. When the wolves and vampires start biting each other's faces off, the screen becomes a blur of grey and brown. They might as well be having a punch-up with a tree.
Add in some awful face paint (for the first time, the Cullen family look like rejects from The Rocky Horror Picture Show), some forced dialogue and THAT sex scene, and Breaking Dawn avoids the emotional mess of Meyer's overlong novel, but winds up in a different puddle altogether. It almost hangs together thanks to Stewart and Pattinson's chemistry, but unbalances every time Lautner is on screen. Pattinson even gets a speech to explain Jacob's motivations, as Rosenberg struggles with Meyer's complex mythology.
Maybe it's because Summit have chosen to split the story in two. At 117 minutes, Part 1 already feels long. Condensed into a single three-hour film, we might get more of Bella's baby bump and less of Lautner's shaggy dog. As it is, Breaking Dawn shines brightest during the opening nuptials, when two of the cast's strongest members (Billy Burke and Anna Kendrick) stand up to swap Bridesmaids-esque speeches. "Edward will be a brilliant husband," Burke's father of the bride slurs. "I know this. Because I'm a cop. It's my job. I know things."
The character-driven humour is only topped by a cameo during the film's end credits, previewing the next instalment. With the promise of Michael Sheen's camp villain Aro and more of Burke's manly moustache, Breaking Dawn: Part 2 might actually be more laughable than this disappointing first half. Hopefully, in a good way.
VERDICT
Less divisive than Meyer's book, the latest Twilight film is unanimously regarded by critics as rubbish. It's not as bad as they say, but it's a sad step back for the series. Breaking Dawn? It closer to Breaking Yawn.
What did you think of the film?
( 2 Votes )
Tags:
anna kendrick
bill condon
billy burke
breaking dawn
breaking dawn part 1
dreamgirls
kristen stewart
let the right one in
stephenie meyer
taylor lautner