Star Ratings
| | |
| --- | --- |
| | Amazing |
| | Well good |
| | Fun |
| | Meh |
| | Rubbish |
| | | |
| --- | --- | --- |
| Review: Tintin: The Secret of the Unicorn (3D) | | |
Written by Ivan Radford
Wednesday, 26 October 2011 12:06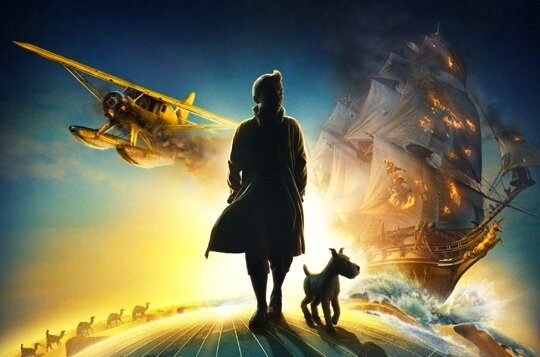 Director: Steven Spielberg
Cast: Jamie Bell, Andy Serkis, Daniel Craig, Simon Pegg, Nick Frost
Certificate: PG
It's not 2D. It's not in French. It's not racist. For some purists, that means this isn't Tintin. But while Spielberg's cinematic outing is a travesty for grumpy diehard fans, it has a lot going for it.
Given Tintin's tradition of globetrotting adventures, the Indiana Jones director is a natural fit for a film based on the comic books. Indeed, he was once declared by the author to be the only guy who could do it - and judging by this colourful treasure hunt, he may have been right.
Of course, there were a loads of things that could have gone wrong. The motion-capture visuals have been a bugbear since the first teaser trailer was released, what with everyone suffering from The Polar Express Syndrome. But although Tintin looks like a dead fish with a quiff, you'll barely notice because the pace of the script is faster than a thundering typhoon.
Swiftly introducing Tintin (Bell) and his (cutely animated) loyal dog Snowy, writers Edgar Wright, Steven Moffat and Joe Cornish soon get on with uncovering the titular unicorn (a model boat) and its encrypted secret of pirate gold. Sticking fairly close to the two-parter novels of Unicorn and Red Rackham's Treasure, the British trio shove in bits of The Crab with the Golden Claw to bring on board Captain Haddock (Serkis), who easily steals the show.
Action sequences bombard the screen every few minutes to keep your eyeballs busy. Whenever things aren't exploding or getting shot, Spielberg swings the camera all over the place, just in case the kids in the audience haven't thrown up yet. It's a dizzying style, but the 60 year old director is clearly enjoying his new CGI toy - and that sense of energy leads to a spectacular single-take set piece, in which a motorbike races through a busy marketplace as people and vehicles go flying. Your stomach may complain, but it's thrilling stuff. And at least it stops you looking at those CGI faces.
Impressively, Spielberg's attention to background detail is as strong now as it was in Jurassic Park. Slapstick jokes litter the screen as henchmen destroy buildings, fall off cliffs and get hit on the head by champagne corks. It's a frenzy of silliness tailor-made for younger audiences - and Andy Serkis' rambunctious performance as the drunk, cursing Archilbald Haddock (barnacles, typhoons and troglodytes are in full supply) makes sure Tintin busts blocks for the whole family.
Unfortunately, the steam runs out come the climax. A pointless showdown involving giant metal cranes is tiresome to sit through, despite Daniel Craig's hammy villainous vocals. With its fast cuts and endless action, Tintin is no E.T. or Jaws. Essentially one long chase sequence, the film it most resembles is actually Kingdom of the Crystal Skull. But where Indy's charm faded in the first five minutes, Tintin's winning eyebrows and pointy hair will keep you entertained all the way to the end. It's more a ride than a movie, but The Secret of the Unicorn is a lot of fun. And there's a lot to be said for that. If you can get past the wrong-looking humans, Tintin is not a Hergé disappointment.
VERDICT
He may not look the same, but this Tintin is as ex-quiff-itely fun as ever.
What did you think of the film?
( 5 Votes )
Tags:
andy serkis
daniel craig
jamie bell
nick frost
simon pegg
steven spielberg
tintin