Star Ratings
| | |
| --- | --- |
| | Amazing |
| | Well good |
| | Fun |
| | Meh |
| | Rubbish |
| | | |
| --- | --- | --- |
| Review: Friends with Benefits | | |
Written by Selina Pearson
Thursday, 08 September 2011 09:09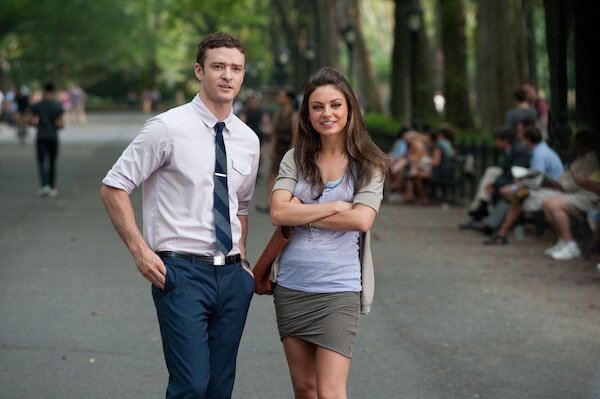 Director: Will Gluck
Cast: Mila Kunis, Justin Timberlake, Woody Harrelson
Certificate: 15
Trailer
Jaimie (Kunis) has just been dumped outside Pretty Woman. Dylan (Timberlake) has been ditched over John Mayer (to be fair, I'd dump even Emma Stone over the song Your Body's a Wonderland). Will unconditional sex between the two rejected pals destroy their friendship? Probably. Have we seen this all before? Definitely.
Will "Easy A" Gluck follows up his love letter to John Hughes with this poke at the rom-com genre. But although it starts out cynical enough ("Shut up, Katherine Heigl, you stupid liar!"), Friends with Benefits soon strays into cliche territory and almost struggles to escape.
Following their respective break-ups with people they hold absolutely no affection for, Jamie, an executive recruiter, pimps out New York to potential artistic director Dylan. The result? She gets her bonus, he gets an ace new job at GQ magazine.
Inevitably, the pair become friends. Their reluctance to be be more than that appears to be symptomatic of their own skeptical views on romance. Jamie is obsessed with the Hollywood ideal - she wants to be swept off her feet and isn't much fussed about who does the sweeping and lives by a five date rule acquired from a movie. Dylan, on the other hand, is emotionally unavailable and doesn't buy into the concept of love.
Deciding they both want uncomplicated sex, there follows a dirty montage.
Fortunately, Friends with Benefits has a bright, funny screenplay which prevents the IKEA self-assembly plot from going all Katherine Heigl. A brilliant but underused Woody Harrelson is also amusingly cast as a gay sports editor with a fondness for font jokes, and Patricia Clarkson returns from Easy A as Jamie's dysfunctional mother. 
Weird "contemporary" jokes about iPads and flashmobs feel forced, but other elements, such as Dylan's Alzheimic father, offer a surprising emotional anchor. While no-one will claim that this is an original take on the genre (especially given the recent release of the inferior No Strings Attached), Friends With Benefits does feel like it's become more than the sum of its parts. If only we hadn't seen some of them before.
VERDICT
Friends with Benefits is stifled by its rom-com roots, but the endearing cast and funny script offer their fair share of perks.

What did you think?
( 1 Vote )
Tags:
easy a
friends with benefits
justin timberlake
mila kunis
no strings attached
patricia clarkson
will gluck
woody harrelson