Star Ratings
| | |
| --- | --- |
| | Amazing |
| | Well good |
| | Fun |
| | Meh |
| | Rubbish |
| | | |
| --- | --- | --- |
| FrightFest Review: Final Destination 5 | | |
Written by Ivan Radford
Thursday, 25 August 2011 08:27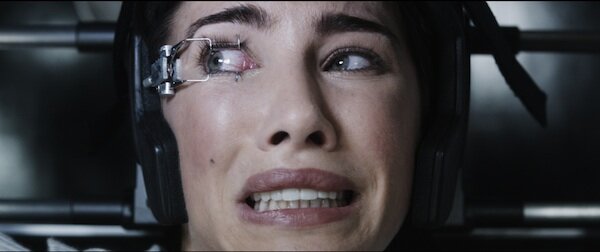 Director: Steven Quale
Cast: Nicholas D'Agosto, Emma Bell, Miles Fisher, Elle Wroe
Certificate: 15
Trailer/Clips
There's nothing quite like waiting for a horrifically drawn-out death to unfold. The introduction of the key props. The gas cooker. The staple gun. The unfortunately misplaced meat cleaver. The unwitting victim walking into the middle of the death trap. The ironic comment as they slip on the unseen puddle of water...
There's nothing like it. It's why people love the long-running series of Casualty. And Final Destination 5? It's like watching the opening of Casualty on repeat for 90 minutes. And then some.
Some will be sick of the same-old formula in the franchise's fourth sequel. They're fools. The secret of Final Destination is that its set-up is so simple that any time spent on exposition can be replaced with something more worthwhile. Like even more horrifically drawn-out deaths.
And boy do those deaths know how to dead people. From an anatomically dubious gymnastics accident to a carefully positioned boat under a bridge, director Steven Quale takes a disturbing amount of pleasure from building up to each final blood-splattered dispatch. It's a blunt, messy full stop that gets applause from an audience every time. Even the 3D is amusingly naff, particularly during the credits - 3D should only be allowed for Werner Herzog cave documentaries and Final Destination sequels.
Of course, there's no point reciting character names, but the cast is at least more familiar this time round - Emma Bell, Miles Fisher, and Nicholas D'Agosto acquit thenselves well, while David Koechner provides a fair amount of inappropriate comic relief. The ensemble isn't emotionally engaging but they all make for great meat bags.
What's striking is how clever Final Destination 5 is when playing with its bags of meat. Where the last film was trashy with its post-modern set piece in an exploding cinema, the self-aware streak here leads to a neat twist upon the original system. None of that life-beats-death malarkey from Final Destination 2. Here, death is death. And only that creepy black dude (Tony Todd) from the first film can tell you otherwise.
The result is a tense piece of drivel that relies not only upon the looming destruction for its suspense (one scene at an eye doctor's is excruciating) but also on the interaction between characters. It leads to a surprisingly mature (but satisfyingly dumb) final act and an inspired ending, which should please fans hoping for a more original form of popcorn fodder. For everyone else, there's always Casualty.
VERDICT
Final Destination 5 finds its form in a gory marriage of blood and brains. The best of the series? Yeah, go on then.

What did you thinkP
( 1 Vote )
Tags:
david koechner
elle wroe
emma bell
final destination
final destination 5
frightfest
miles fisher
steven quale