Star Ratings
| | |
| --- | --- |
| | Amazing |
| | Well good |
| | Fun |
| | Meh |
| | Rubbish |
| | | |
| --- | --- | --- |
| Review: Attack the Block | | |
Written by Ivan Radford
Monday, 09 May 2011 12:00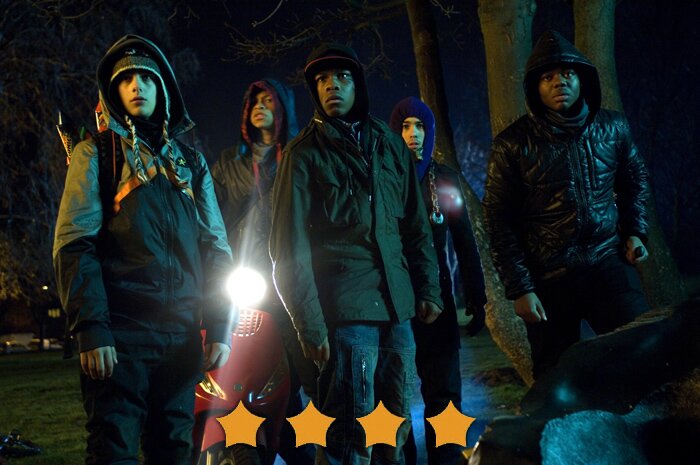 Director: Joe Cornish
Cast: John Boyega, Nick Frost, Jodie Whittaker, Luke Treadaway, Alex Esmail
Certificate: 15
Trailer
There's nowt like a council estate to give you the willies. And doesn't Joe Cornish know it. His directorial debut sees an alien invasion land upon a South London tower block, challenging the local gang for their home turf. 

"That's an alien, bruv, believe it!" declares one of the youths after they've shanked E.T. in the face. But rather than focus on the fact that our heroes are horrible assholes, Attack the Block jumps straight over that hurdle and gets on with its main goal: killing aliens, blud, you get me?

This is a sci-fi thriller with a good sense of pacing. We follow lonely nurse Sam (Whittaker) home, just as she gets mugged by The Block's band of teens. Then the script switches tracks, putting us on the same side as the unlikeable kids without making a fuss. It's a redemption tale of sorts, but there's no time to spend moralising. Not when there are monsters on the loose.

It falls to Moses (Boyega) to lead the defence of The Block. A commanding presence, Boyega's uneasy bond with Whittaker's nurse keeps things nicely tense; the contrast between the cast members is lightly played, from Luke Treadaway's middle-class stoner to Nick Frost's middle-aged drug dealer. 

You could take issue with the caricatured use of street slang, but Cornish's characters don't feel forced. Admittedly, they're limited to standard genre types, but they all have glimpses of backstory, from concerned grandmas and sisters to sudden displays of nerves - "I wanna go home, lock the doors and play FIFA!" cries one, cowering underneath his hood.

Is it intended to be funny? Perhaps, but there aren't many laughs to be had. That's not really a problem, though. If anything, it's credit to the teen actors that they stand up as more than one-note jokes.

Most importantly, the sci-fi part of the setup is exceptionally well done. Using the flat's timed light switches to spine-tingling effect, Cornish understands his location. The kids leap off railings, they climb up balconies, one of them hides in a wheelie bin; he captures the blunt intimidation of The Block using eerie blue lighting and a thumping Basement Jaxx soundtrack.

Then there are the monsters. Jet black fluffballs with blue-green teeth, they scream of low-budget brilliance. Blending into the shadows with their jaws glowing bright, the aliens are a stunning piece of creature design, completely at odds with their grimy surroundings. 

And that's why Attack the Block is a success. You may not find much humour in our gaggle of anti-hero hoodlums, but this sci-fi thriller has enough sci-fi to thrill your balls off. And that's precisely what a good monster movie needs. Not over-bearing social commentary or satirical pop culture gags. On a simple level of pure alien threat, Attack the Block's beasties are bang on.

VERDICT 

On a scale of one to bare sick, Attack the Block is almost definitely bare sick.
What did you think?
( 2 Votes )
Tags:
alex esmail
alien invasion
attack the block
franz drameh
joe cornish
john boyega
jumayn hunter
leeon jones
luke treadaway
nick frost