Star Ratings
| | |
| --- | --- |
| | Amazing |
| | Well good |
| | Fun |
| | Meh |
| | Rubbish |
| | | |
| --- | --- | --- |
| Justin Bieber: Never Say Never 3D | | |
Written by Ivan Radford
Wednesday, 16 February 2011 14:03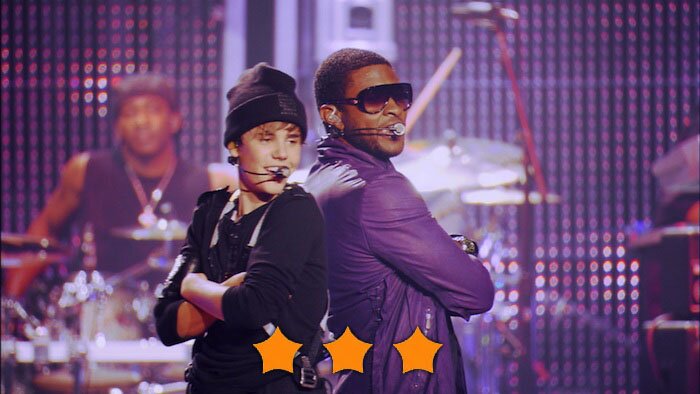 Director: Jon Chu
Cast: Justin Bieber
Certificate: U
Trailer/Clips
"I LOVE JUSTIN BIEBER!" "I LOVE HOW HE LOOKS!" "OH MY GOD, I LOVE HIS HAIR!" "JUSTIN!! JUSTIN!!" Two hours of screaming fangirls and devoted teenyboppers is no-one's idea of a good time. But you know what? Justin Bieber: Never Say Never 3D actually is a good time. Maybe it's The Bieber's raw charisma, or his annoying musical talent, but this concert movie is solid, straight-up fun. I blame the hair.

Like Michael Jackson, Hannah Montana and U2 before him, Justin Bieber has reached the stage where he can sell out a venue like Madison Square Garden and then prance about in front of video cameras while someone makes a film about it.

Never Say Never is the usual blend of backstage larks, concert footage and interviews with family and friends. Even "Uncle" Usher turns up to talk about how important his role in Bieber's career was (answer: very important). Throughout, everyone wears the same photogenic grin, the kind of sterilised smile that defined High School Musical.

Maybe it's all just a hoax and Justin Bieber is actually a robot, programmed to attract females while outputting infectious pop tunes into a microphone. The kids in the home videos, the elderly relatives, the devoted yummy mummy - all of them are in on it, like some kind of Pop Idol-Wicker Man conspiracy, which comes with its own range of t-shirts and lunchboxes.

That's the only way to explain the freakish success of ickle Justin, who barely dropped out of his mummy's tummy before playing jazz standards on the drums at his local church. The other explanation is even more terrifying: it's all true. The teamwork, the hard effort put in behind the scenes, the fact that he can actually play several instruments. Not to mention his impressive singing voice and his brown eyes and his cute smile and his purple clothes and - "OH MY GOD, HIS HAIR IS SO PERFECT!"

It's 15 minutes too long and doesn't need the 3D, but at least Jon Chu's documentary has a sense of humour. There are serious moments (Justin can't talk for a week because of his swollen vocal chords - sad face) but there are also slow-motion montages of Justin tossing his hair, smouldering at the camera while Ella Fitzgeralds belts out At Last in the background. Couple that with endless shots of demented fans and you've got a genuinely laugh-out-loud package. Especially when they introduce Jaden Smith to the audience as a "Karate Expert".

Of course, for those who take this stuff seriously, seeing little girls cry when they're given free tickets can actually be quite emotional. He's making them happy! Him, with the hair and the voice and the purple shoes! He's making them happy! Bless his little Canadian socks! By that point, you'll find it hard not to tap your feet to the repetitive songs and their cheesy choruses. What's worse is you'll feel good about doing it.

It's a horrifying realisation: either this is a perfectly planned piece of manipulative commercialised drivel. Or Justin Bieber: Never Say Never 3D is a genuinely moving cinematic experience. You smile, I smile. Hell yes.

VERDICT

They made a movie about Justin Bieber and it was good. Go figure - or go see it.
Your rating
( 4 Votes )
Tags:
jaden smith
jon chu
justin bieber
never say never