Star Ratings
| | |
| --- | --- |
| | Amazing |
| | Well good |
| | Fun |
| | Meh |
| | Rubbish |
| | | |
| --- | --- | --- |
| True Grit | | |
Written by Ivan Radford
Wednesday, 09 February 2011 12:54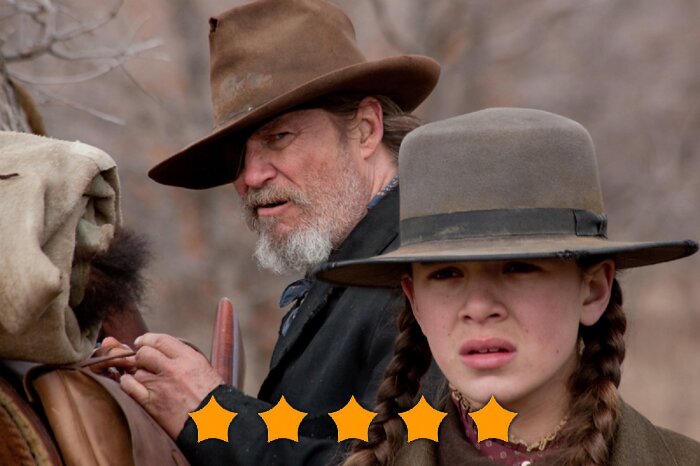 Directors: Ethan Coen, Joel Coen
Cast: Jeff Bridges, Hailee Steinfeld, Matt Damon, Josh Brolin
Certificate: 15
Trailer
Hats are brilliant. You've got to love hats. The Coen Brothers learnt long ago (before No Country For Old Men) that if you put a man in a hat, you get results. Miller's Crossing had its fair share of hats. It was a straight-up masterpiece. And that was way back in 1990. But you know what? You've never really seen a hat until you've seen Hailee Steinfeld wear a hat. She takes hat wearing to a whole another level. Hats and her? It's a thing of beauty.

Mattie Ross (Steinfeld) is a hard-nosed, business-sorting, smart-talking woman. She knows what she wants (revenge for her dad's death), she knows how to pay for it, and she ain't afraid of holding a gun. She's 14 years old.

Determined to hire depraved Marshall Rooster Cogburn (Bridges - wearing a hat), Mattie ends up with not one but two men on her side. Enter LaBoeuf (Damon - plus hat), a Texas Ranger with a sharp eye and even sharper nose for Cogburn's drinking. Reaching an uneasy financial truce, they feud all the way across the plains in search of outlaw Tom Chaney (Brolin - no hat).

Framed with third Coen Brother Roger Deakins' flawless skill, True Grit is a gorgeous bit of film, which has some stonkingly good editing to boot. The cast look the part too, from Matt Damon's facial hair to Jeff Bridges' drunken swagger. Playing the part with more gravel than John Wayne's boisterous hero, Bridges' Cogburn is cantankerous and ruthless. Make no mistake: The Dude beats The Duke. It's his eyepatch and he's rocking it.

The roles are more generous than the 1969 original, allowing time for Damon's ambitious soldier to shine. But the film belongs to Steinfeld, all frail figure and firm jaw. Like Jennifer Lawrence in Winter's Bone, she stands up to the brutal world around her, but gives events a moral heart that demands your total sympathy; there aren't many girls who'll drag a horse across a river, let alone ones who can quote the Bible while doing it.

Set squarely in the 1800s, the seamless production design equals the script, an accomplished weave of loss, religion, justice and hats. Playing out to the hymn Leaning on the Everlasting Arms, True Grit does feel a lot like Miller's Crossing. And it's every bit as brilliant. The Coens' maturity has only increased over the years, the brothers comfortable with quoting Charles Portis' novel almost word for word but leaving their signature all over the shop. Violence constantly simmers under the surface and the dialogue is as blackly comic as Fargo's finest offerings. The final shots of the starry sky are as poetic as you'd expect. Thought they only had one Western in them? That's like saying they've only made one masterpiece. Wrong on both counts.

VERDICT

Terrifying consistent, the Coen Brothers have created a classic Western. Astonishing. Wonderful. Masterpiece. Hats.
Your rating
( 1 Vote )
Tags:
charles portis
ethan coen
fargo
hailee steinfeld
jeff bridges
joel coen
john wayne
josh brolin
matt damon
no country for old men
remake