Star Ratings
| | |
| --- | --- |
| | Amazing |
| | Well good |
| | Fun |
| | Meh |
| | Rubbish |
| | | |
| --- | --- | --- |
| The Green Hornet | | |
Written by Ivan Radford
Wednesday, 12 January 2011 09:35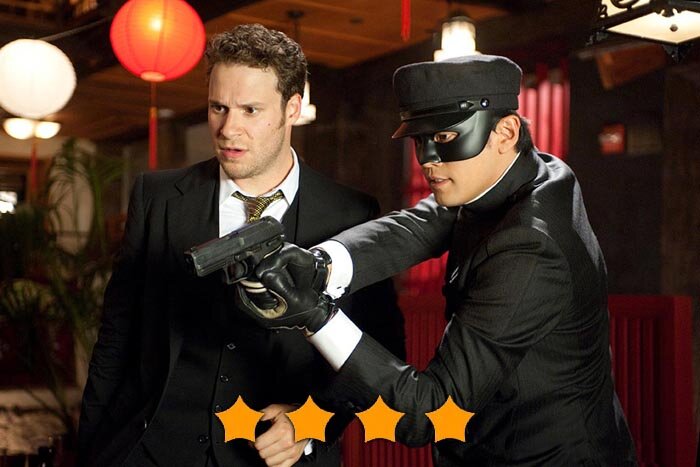 Director: Michel Gondry
Cast: Seth Rogen, Jay Chou, Cameron Diaz, Christoph Waltz, Tom Wilkinson
Certificate: 15
Trailer
Batman. Spider-Man. Wolverine. For years, fans have been waiting for a character to laugh at. But now we can laugh at something other than Tobey Maguire: Seth Rogen's stepped into a superhero costume. And he's not afraid to be funny. In fact, he's good at it. And he kicks ass too. He does both. Very well.

Britt Reid (Rogen) is an immature party boy who doesn't care about his dad's media empire. But when James Reid (Wilkinson) dies from a bee sting, Britt gets the burden of running his father's newspaper. He promptly ignores it, spending his time getting to know butler Kato (Chou) and his fantabulous coffee-making contraption instead.

Of course, that's not the only machine the mechanic has lying around. He also has guns, cars, cars with guns, and guns that shoot cars that also have guns. Together, in a manner reminiscent of Mark Millar's warped comic book, they wind up deciding to fight crime – by pretending to be criminals.

There's not a lot of logic to the plot, but that's not really the point. Playing out like a stoner comedy, The Green Hornet feels like a follow-up to Pineapple Express. But in 3D. And with more guns. There's even an opening scene with mid-life crisis villain Chudnofsky (Waltz) squaring off against James Franco, which has more LOLs than Spider-Man 3's emo dance scene.

Taken as a whole, it's a bit of a shambles, but that suits Seth Rogen and Evan Goldberg's screenplay perfectly. The story is bloated towards the end, but Rogen and Chou strike up a decent double act, playing for laughs without slowing the pace. Yes, the 3D is pointless, but nothing can dampen the bromance of the leads – a testament to Rogen's comic presence and Chou's deadpan delivery.

In their supporting roles, Tom Wilkinson and Edward James Olmos are somewhat underused – not to mention Cameron Diaz as the amusing, two-dimensional love interest – but the gags fly as fast as the bullets from Christoph Waltz's double-barrelled gun. Even if Waltz himself doesn't fire on all cylinders.

At the helm, Michel Gondry adds some real spark to proceedings. The curious "Kato-vision" is mostly an excuse for the director to slap some colour over the action, but the visuals are striking enough to stand apart from most franchises; one epic split-screen sequence in particular deserves a mention. It's well choreographed, too, never becoming chaotic despite the detailed mayhem that's always unfolding.

Helped along by the awesome car, silly gadgets and Kym Barrett's gorgeous costumes, The Green Hornet confidently ticks the blockbuster boxes in its own quirky way. Clumsy? Yes. Indie? Sort of. Fun? Definitely.

VERDICT

Seth Rogen? Michel Gondry? Superhero blockbuster? It sounds crazy, but The Green Hornet works. Offbeat entertainment that's unafraid to kick comedy ass.
Your rating
( 1 Vote )
Tags: