Star Ratings
| | |
| --- | --- |
| | Amazing |
| | Well good |
| | Fun |
| | Meh |
| | Rubbish |
| | | |
| --- | --- | --- |
| Blue Valentine | | |
Written by Ivan Radford
Tuesday, 11 January 2011 11:32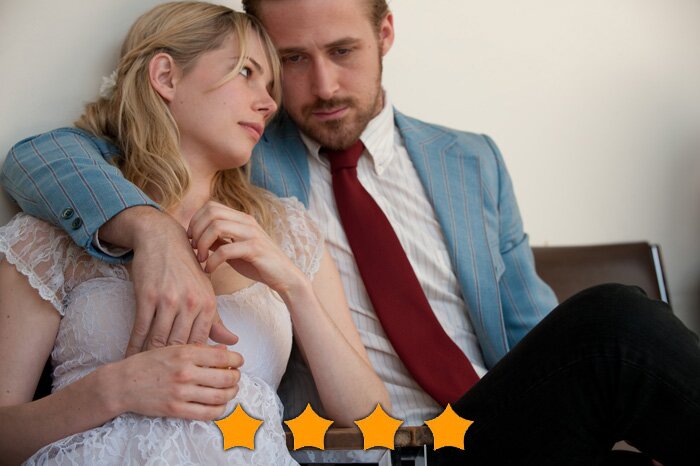 Director: Derek Cianfrance
Cast: Ryan Gosling, Michelle Williams, Faith Wladyka
Certificate: 15
There's nothing like watching two people tear each other to shreds. Blue Valentine is a close-up portrayal of a marriage's last legs. It's painful, it's depressing, it's like listening to an Elliott Smith song on repeat for two hours. If you like that kind of thing. And you should do. Because it's brilliant.

Cindy (Williams) is a nurse, struggling through the dying days of her partnership with Dean (Gosling). They met years ago, back when he had potential and she had happiness. Now, she slaves away to feed their daughter (Wladyka), while he paints the inside of other people's houses and starts drinking at 8am.

Taking us back to the couple's swooning early stages, first-timer Derek Cianfrance switches the tone from sentimental to suicidal like a seasoned pro. In a perfect judge of bittersweet storytelling, Dean serenades Cindy in a shop window with You Always Hurt The One You Love. It's a tragic moment, which the soundtrack amplifies for the rest of the film.

As a pair, Michelle Williams and Ryan Gosling are ferociously on form. They fight and bicker with the same intensity as when they first fall in love, lurching from flirting on the bus to brutal, violent sex with a natural, unforced bond. Both deserve Oscars for acting out such harrowing material, let alone doing it so beautifully. They even get some laughs in there, thank goodness. "We're inside a robot's vagina!" exclaims Gosling as they enter The Future Room at a seedy sex motel.

Playing out like (500) Days of Summer but without the hipster sheen, Blue Valentine has an intensity that rings with first-hand experience. A raw and and more immediate Revolutionary Road, the claustrophobic decay of affection is a personal, intimate, and horrible thing to witness. You'll love every second.

VERDICT

Blue Valentine will fill you up with happy thoughts and then pummel you to pieces. Heart-breakingly good cinema.
Your ratings
( 2 Votes )
Tags:
(500) days of summer
derek cianfrance
faith wladyka
revolutionary road