Star Ratings
| | |
| --- | --- |
| | Amazing |
| | Well good |
| | Fun |
| | Meh |
| | Rubbish |
| | | |
| --- | --- | --- |
| The Girl who Kicked the Hornets' Nest | | |
Written by Ivan Radford
Wednesday, 24 November 2010 14:08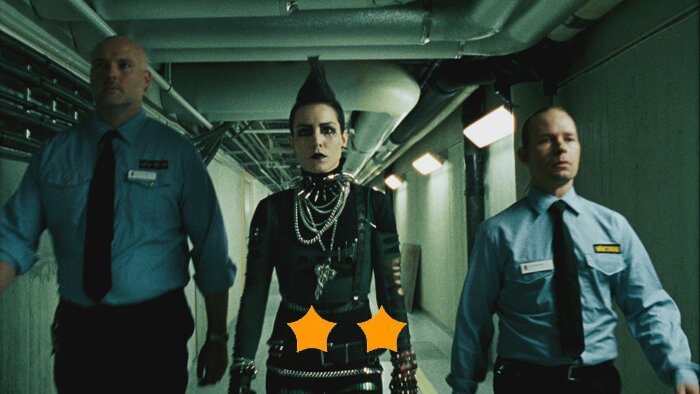 Director: Daniel Alfredson
Cast: Michael Nyqvist, Noomi Rapace
Certificate: 15

It's not easy trying to bury an axe in your dad's brain. Especially when he's a defected Russian agent and your brother's a psychotic blondey who feels no pain. Not to mention the fact that you're the country's most wanted murder suspect. Which is why Lisbeth Salander (Rapace) is now in hospital. It sounds like a TV movie and it is. Just not a great one.

Lisbeth starts off recovering from her violent familial encounter at the end of the last film. She's stuck in bed for an hour awaiting her trial (hour number two), where she hopes to clear her name using a very tall haircut. It's basically an episode of Casualty and Kavanagh QC back-to-back.

Heing down Stieg Larsson's hefty 700 page novel, there's a lot of plot missing, but the main problem is the style. Daniel Alfredson stays at the helm after the satisfactory second outing, and he sticks to what he knows. Namely, getting the job done without blowing the small-screen budget.

The locations and performances are impressive (Michael Nyqvist is now perfectly at home as sleepy-faced journalist Blomkvist) but there's a certain spark missing. The plot plods along as the secret service conspiracy against our hacker heroine is exposed, but events don't have the novel's energy. The movie shoots itself in the foot before the enigmatic Rapace is even let out of hospital.

Thank goodness, then, that her character is still captivating. If it wasn't for the girl with the dragon tattoo, The Girl who Kicked the Hornets' Nest would be worth watching only for the downfall of sleazy Dr Paedo Teleborian. It's a shame after such excellent recent Swedish cinema. This courtroom thriller should grip as much as Grisham. It doesn't. And Grisham doesn't have bum rape to go on. 

VERDICT

More workmanlike than wonderful, The Girl who Kicked the Hornet's Nest is an empty, pointy-haired affair.
Your rating
( 1 Vote )
Tags:
lisbeth salander
michael nyqvist
milennium
millennium trilogy
review
stieg larsson
the girl who played with fire
the girl with the dragon tattoo