Star Ratings
| | |
| --- | --- |
| | Amazing |
| | Well good |
| | Fun |
| | Meh |
| | Rubbish |
| | | |
| --- | --- | --- |
| Due Date | | |
Written by Ivan Radford
Wednesday, 03 November 2010 08:58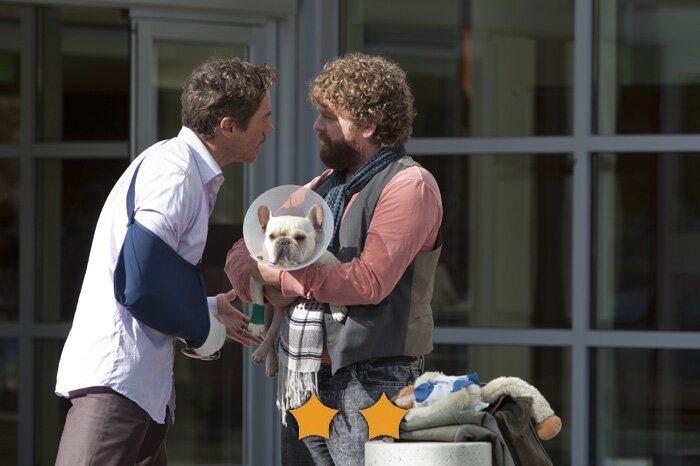 Director: Todd Phillips
Cast: Robert Downey Jr., Zach Galifianakis, Jamie Foxx, Michelle Monaghan
Certificate: 15
Trailers
Cars are funny. Men are funny. Two men in a car together? That's hilarious. Especially if they have to drive across America because one of them says "bomb" on an airplane. They swap bags too. And get accused of drug smuggling. And cross the border into Mexico. Oh, and one of them's about to have a baby! The Funniest Film Since The Hangover, Due Date ticks every comedy box. Except the one labelled jokes.

Peter (Downey Jr.) is an expectant father, trying to travel home to be with his wife - played by Michelle Monaghan for all of 30 seconds. But it all goes to pot after a string of chaotic encounters with retarded man-child Ethan Tremblay (Galifianakis). He's an actor. And for that read: not as funny as Tobias Funke.

Hungover from The Hangover, Todd Phillips throws his leftovers at the screen to see if anything goes. A lot of it doesn't. After 15 unfunny minutes, Robert Downey Jr. hits a child. That's the biggest laugh of the film. It's all uphill from there. Although there is an amusing eulogy for a dead man - along with another 30 minutes of stuff about his ashes being kept in a coffee can.

Due Date is a lazy vehicle welded together from the scraps of other road trips. Without the wit of Planes, Trains and Automobiles, it burns up its talented cast with gags that never get out of first gear. The occasional burst of chemistry keeps the engine ticking over, but the tank soon runs on empty. And that's when they wheel out the disabled war veteran for a punch-up.

VERDICT

Two unlikeable leads travel across America and learn nothing about each other at all. Due Date is a disappointingly average way to make your car journey feel longer.
Your rating
( 1 Vote )
Tags:
due date
jamie foxx
michelle monaghan
review
robert downey jr
the hangover
todd phillips
zach galifianakis